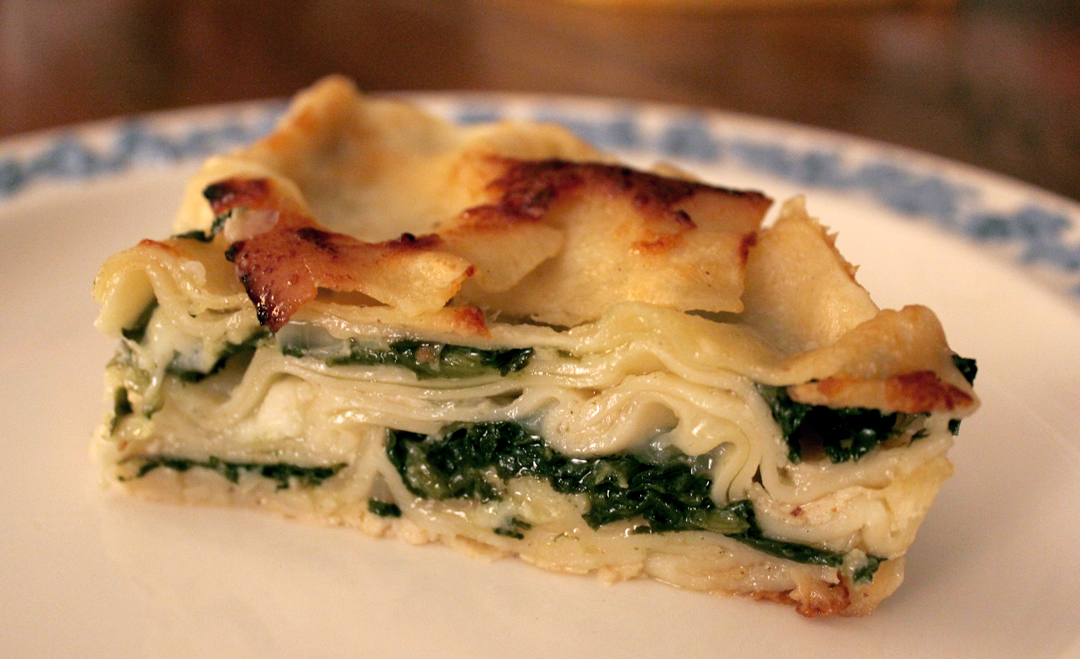 The dinner forethought continues, for another week at least.
Tonight's make-ahead meal was Spinach & Bufala Mozzarella Lasagna. This is one of our crazy schedule nights, so I made the lasagna yesterday while Shane and Rose were at Costco.
I did it in two pans, one for today, and one for some time in the future. The today lasagna I cooked, the future lasagna I wrapped and put in the freezer, uncooked.
Tonight's lasagna sat out on the counter all day to come to room temperature. When Shane arrived home at 7:45, he put it in a 200 degree oven. By the time we were ready to eat, at 8:15, it was warm enough.
It was a great lasagna, which we promptly devoured. It would probably be even better straight from the oven (instead of reheated) but nobody complained, not even the kid.
• Spinach & Bufala Mozzarella Lasagna •
adapted from this recipe from Martha Stewart
 Notes: I thought that the original recipe was going to be a bit too green for my peeps. And, I wanted to use bufala mozzarella because I love it so much. My version reduces the spinach by half , swaps out and increases the quantity of cheese and eliminates the zucchini.
If you are going to do this as a make-ahead dish, assemble the whole thing but don't cook it. Cover it with greased foil and store it in the fridge or freezer until the day you plan to serve it. Then, bring it to room temperature and put it in the preheated oven about an hour and twenty minutes to an hour and a half before serving.
1 tablespoon olive oil
1 small yellow onion, finely chopped
1 1/2 teaspoons Kosher salt
1 pounds fresh spinach, tough stems removed if not using baby spinach
4 tablespoons unsalted butter
1/4 cup all purpose flour
1 quart milk
1 packed cup grated Pecorino Romano
1/4 teaspoon freshly grated nutmeg
1/4 teaspoon ground black pepper
9 ounce package no-boil lasagna noodles, I like Barilla
1lb Bufala mozzarella, torn into bite-size chunks
1/3 packed cup grated Pecorino Romano
Preheat oven to 375 degrees with rack in middle position (unless you're making it for another day – see notes above).
Heat 1 tablespoon oil in a large pot over medium heat. When oil shimmers, add onions and 1/2 teaspoon salt and cook, stirring occasionally, until translucent, 3 minutes. Add spinach, a few handfuls at a time, and cook, stirring frequently, until all spinach is wilted, but not brownish, 3-5 minutes. Transfer to a mesh strainer and press spinach against the side with a wooden spoon, to remove as much liquid as possible.
In a medium saucepan, make the bechamel. Melt butter over high heat. Add flour and cook, whisking constantly for about a minute. Add milk and continue whisking frequently, until milk begins to boil and thickens enough to coat the back of a spoon (ie: thick gravy or melted ice cream consistency). The thickening might take a while, up to 20-25 minutes.
Remove bechamel sauce from heat, and stir in 1 cup Pecorino, nutmeg, 1 teaspoon salt, and black pepper. Cover the pan with a lid and stir from time to time to keep a skin from forming while you get ready for the next step.
Spread 1 cup bechamel along the bottom of a 9- by 13-inch baking dish. Place one-third of noodles over bechamel in a single, overlapping layer. Top with 1 cup bechamel, half of spinach and half the mozzarella. Repeat with a second layer of noodles, bechamel, remaining spinach and remaining mozzarella. Top with a final layer of noodles, remaining bechamel and 1/3 cup Pecorino. Cover with greased foil and bake 45 minutes. Remove foil and continue baking until cheese is golden in places and lasagna is bubbling along the edges, about 15 minutes.
Remove lasagna from oven and let stand 20 minutes before slicing and serving.