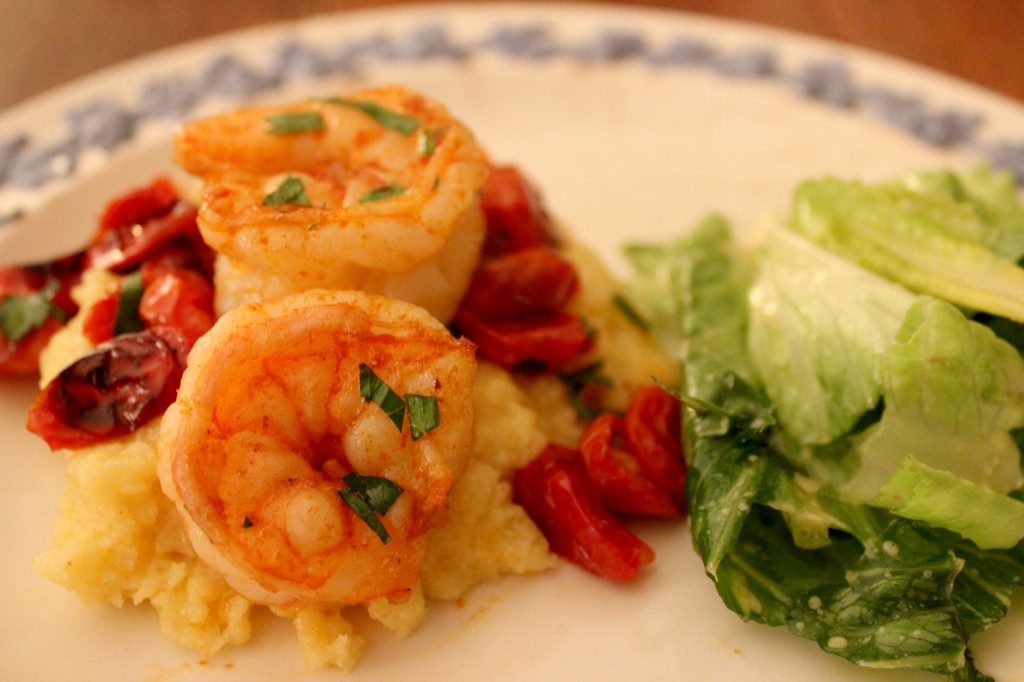 Several things went wrong in the making of this dish, but it came out nicely in the end.
I'm not convinced that the oven-roasted tomatoes were worth the time, in this particular case. I think you could just as easily broil the tomatoes with the shrimp and get a better result. Or you could skip the tomatoes.
I began by broiling the shrimp on a bed of spinach. The spinach burned immediately and smelled like a rotten half-smoked joint (or something like that). I promptly removed the spinach to the trash.
Which leaves us with the shrimp and polenta… which came out great! If you skip all the nonsense above, both recipes are also quick and easy.
• Easy Broiled Shrimp •
9 jumbo shrimp (16-20/lb) peeled and deveined
2 tablespoons olive oil plus more for pan
1 clove garlic, minced
1 teaspoon smoked paprika
1/2 teaspoon kosher salt
1 tablespoon chopped, flat-leaf parsley
Heat broiler. Lightly coat a baking tray with olive oil. Combine 2 tablespoons olive oil, garlic, paprika and salt in a medium bowl. Add shrimp to oil mixture and stir to coat well. Lay shrimp on baking tray with some space between them. Broil for 1-2 minutes, flip and broil the second side until done. Remove cooked shrimp to a bowl, add parsley, stir to combine, and serve over soft polenta.
• Soft Polenta •
adapted from Lidia Bastianich
3 cups water
1 teaspoon Better Than Bouillon
1/2 teaspoon kosher salt
2 tablespoons olive oil
1 cup fine cornmeal
3 tablespoons unsalted butter
Combine water, Better Than Bouillon, salt and olive oil in a medium saucepan and bring to a simmer. Reduce heat to very low. Add corn meal to water, very slowly, sprinkling it in with your hand while whisking constantly with the other hand. Adding the corn meal should take a full minute or two. Once all of the corn meal is added, continue cooking over very low heat for five minutes. Add butter and stir until melted. Serve right away.