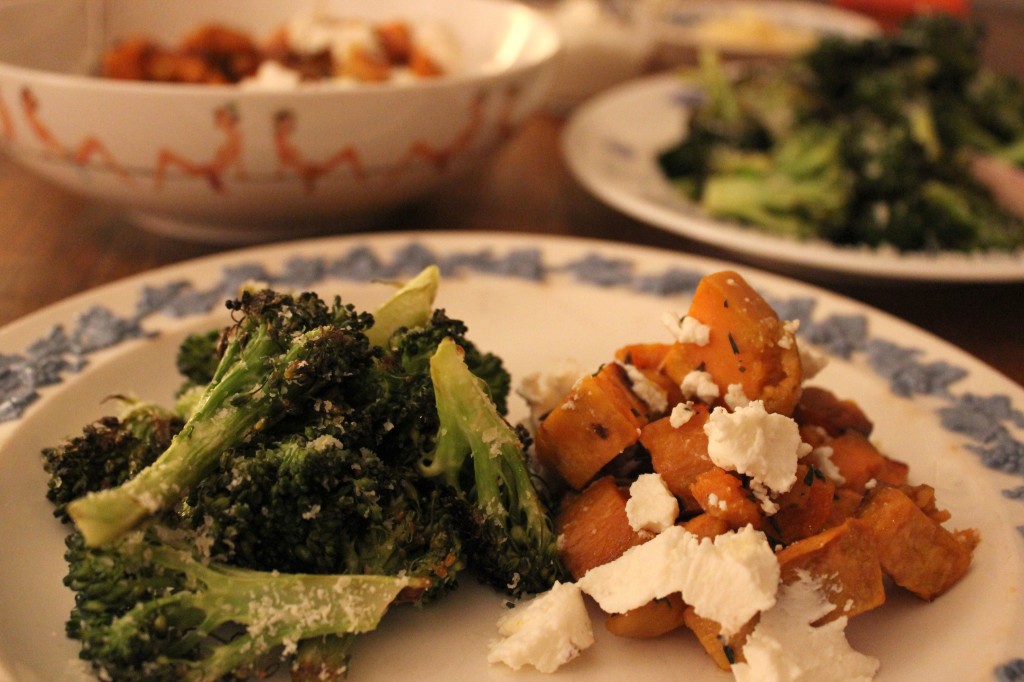 While my family ate the leftover turkey chili from last week, I had a (not wholly round) meal of delicious vegetable sides. If you've been here recently, you know my new favorite thing to do with broccoli is to roast it. Tonight I did just that and then sprinkled it with parmesan cheese.
I'm very excited about the sweet potatoes tonight. I roasted and then tossed them with fresh thyme, and topped with goat cheese. The recipe is below.
• Roasted Sweet Potatoes with Goat Cheese & Fresh Thyme •
2lbs sweet potatoes, peeled and cut into 3/4″ cubes
1/4 cup olive oil
1/2 tsp kosher salt
2 oz chevre
1 tsp chopped fresh thyme leaves
Heat oven to 350. Peel and chop potatoes and toss with olive oil and salt. Roast potatoes on a rimmed baking sheet until soft and browned in places, about 30 minutes. Let cool slightly, then toss with fresh thyme leaves. Season to taste with salt and pepper. Serve topped with crumbled chevre.