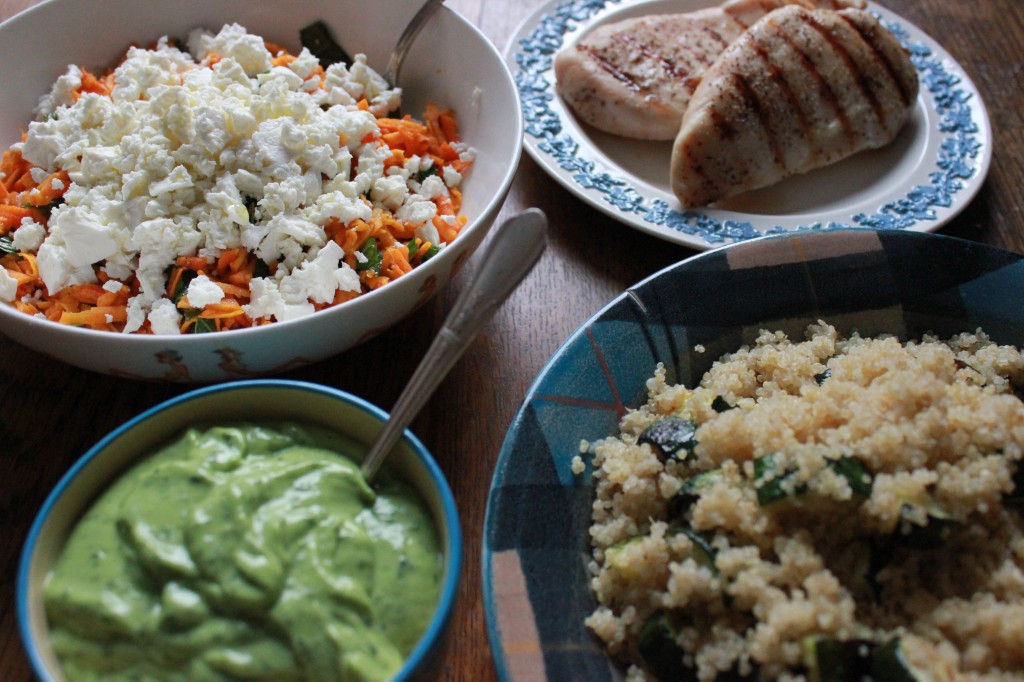 I've been getting a lot of zucchini and carrots in my csa box these past weeks, with even more coming on Thursday. I decided to try some new recipes in an attempt at avoiding zucchini and carrot fatigue. Both were delicious, even Shane liked them and he's not much of a veggie guy, unless you count potatoes.
The carrots were Smitten Kitchen's Carrot Salad with Harissa, Feta and Mint. I didn't have harissa so I just used a bit of red pepper flakes instead, I was also out of parsley. It was really good, even without the harissa and parsley. This can be made quickly if you have a grater attachment for your Cuisinart.
• Zucchini and Quinoa with Yogurt, Cilantro & Av0cado Dressing •
Adapted from this recipe, from 101 Cookbooks
Using the recipe at the link above, this is what I did differently: For the dressing, I tripled the cilantro, doubled the salt, replaced 1/4 cup of the water with 2 tablespoons of olive oil and left out the garlic. For the salad, I doubled the zucchini and cooked it in the broiler with olive oil and salt until browned in parts but not all over. I left out the eggs (had them for lunch), the cheese (because we were already having feta with the carrots) and the pine nuts (do you know about pine mouth? I'm a sufferer).
Note: I would definitely make this again without the substitutions, particularly if I had some non-pine-mouth-causing European pine nuts on hand and wasn't already having goat cheese in another dish.
For the carnivores I made Weekday Grilled Chicken. Super easy and quick, I make it at least once a week these days.
• Weekday Grilled Chicken •
Thaw or purchase two organic, boneless, skinless, chicken breasts, rinse and pat dry. Pre-heat a cast iron grilling pan. Sprinkle breasts with any kind of Camp Mix (I used Original tonight). Put a little oil in the grilling pan and grill the breasts for approximately 7 minutes per side until cooked through.