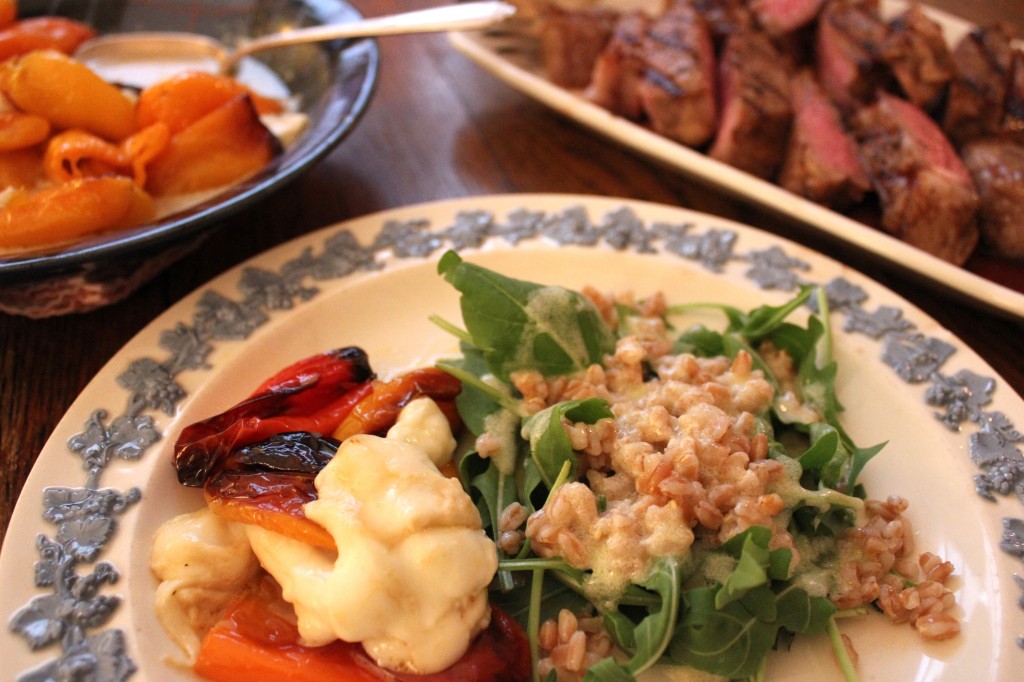 Shane fell off of his bike this morning, he's fine but rather banged up. I suggested steak, and he brought home two. Shane likes a grilled ribeye steak. Since we live in an apartment building and cannot grill outdoors, we use a cast-iron grilling pan.
• Indoor-Grilled Ribeye Steak •
Lightly oil a cast-iron grillig pan, preheat pan on the range top, over a high flame. Season your steak, with salt and pepper and cook until done, 5-7 minutes per side for medium rare. A good cut of meat should not need a lot of seasoning but you can serve with steak sauce, if you like.
Do you know those little red, orange and yellow peppers they sell at Costco? They come in a bag and are about 2-3″ long? Well, they're delicious and easy to make.
• Roasted Cubanelle Peppers •
Rinse the peppers, toss them in olive oil and salt, and roast them in a 400 degree oven, until they're soft and juicy. They're good enough just like that. Tonight, I ripped bufala mozzarella into bite-size chunks, tossed it with the peppers, and heated in the oven for two minutes, until the cheese was just warm through.
The salad was arugula and farro with a creamy lemon, yogurt and olive oil dressing. I will make it again (with measuring) and post a recipe sometime.