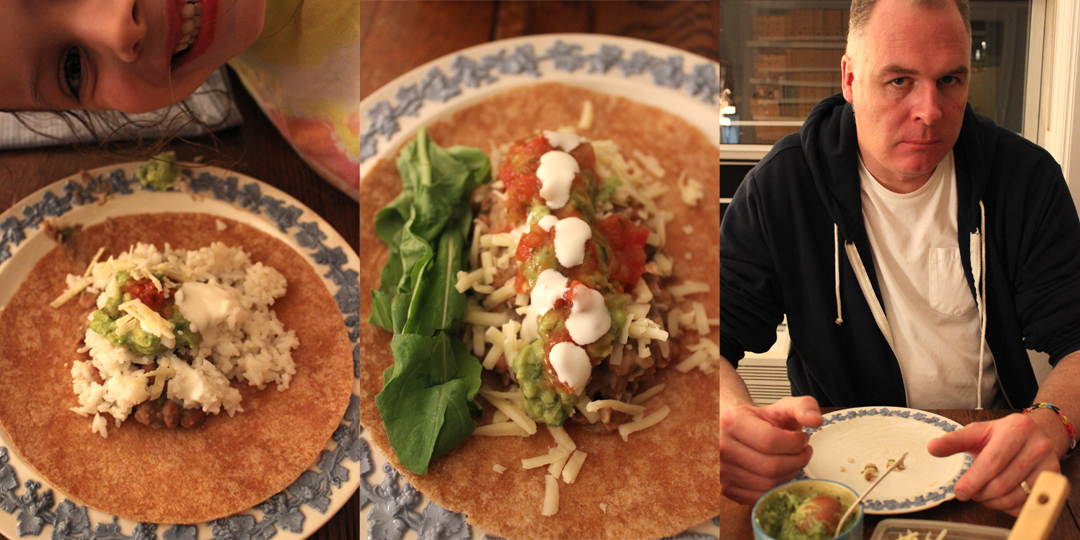 (above left to right: Rose and her burrito, my burrito, Shane's burrito – oops! too late!)
Well, we made it through another crazy gymnastics night. Same deal, home at 7:55, shower, family dinner, Rose in bed by 8:30. Hooray!
My friend Rachel and I have been talking a lot (okay, nonstop) about dinner ideas for these Mondays and Wednesdays when Rose has class until 7:30. The way the conversation goes, is that Rachel gives me really great suggestions, and I tell her why they won't work.
Here are some of the challenges we are facing on Mondays and Wednesdays:
1. Dinner needs to be a meal that I can heat up and have on the table in 5-10 minutes (without owning a microwave or crock pot).
2. Ideally, whatever I make should be able to feed all three of us. It needs to be either vegetarian, pescetarian, or not take much effort to make both a veg and a meat version.
3. The meal needs to be something I'm pretty sure Rose will like. After 3 hours of gymnastics, I feel like I shouldn't really do the tough-love thing if she doesn't like what we're having.
Tonight's dinner was a roaring success. DIY burritos are a perfect prep-ahead meal. There's no recipe per se, it's really a use what you've got kind of situation. Click here and here for more inspiration.
At lunch time today, I made beans from this recipe, but using pinto beans instead of black, and scallions instead of leek. I also made a quick batch of guacamole (recipe below), grated the cheese, washed some salad greens, took the tortillas out of the fridge and put leftover rice in a pot on the stove. I made sure we had salsa and sour cream on hand, and set the table.
When we got home, all I had to do was warm the rice and the beans, put everything on the table, and smile when Rose said "Yay! free night!" before overstuffing and devouring her burrito.
So far this week we've had:
Monday (Make Ahead: 1 hour to prep, 5 minutes to reheat):
Spicy (or not-Spicy) Vegetarian (and Turkey) Chili and nothing else! This is a one-dish meal, baby.
Tuesday (Quick: 30-45 min start to finish, if you have leftover rice on hand):
Weekday Grilled Chicken, Brown Rice Fritters (make Rice Pancakes next time, instead), a simple salad.
Wednesday (Make Ahead: 30-40 min to prep, 5 minutes to reheat):
DIY Burritos: Quick & Easy Beans, whole wheat tortillas, leftover rice, salad greens, guacamole (recipe below), grated cheddar, sour cream, store-bought salsa.
• Quick and Easy Guacamole •
inspired by Ronni
1 ripe avocado
the juice of 1/2 to 1 lime
3 tablespoons chopped green chiles from a can
1/4 teaspoon salt plus more to taste
chopped, fresh cilantro
Peel and pit the avocado, setting the pit aside. Mash avocado with juice of 1/2 a lime, chiles and salt. Taste for seasoning, add more salt and lime if you like. Stir in as much cilantro as you like (I use about 1 tablespoon chopped). Put guacamole in a bowl and poke the pit into the center of it. Cover until ready to serve. The pit will keep the guacamole from browning for several hours.