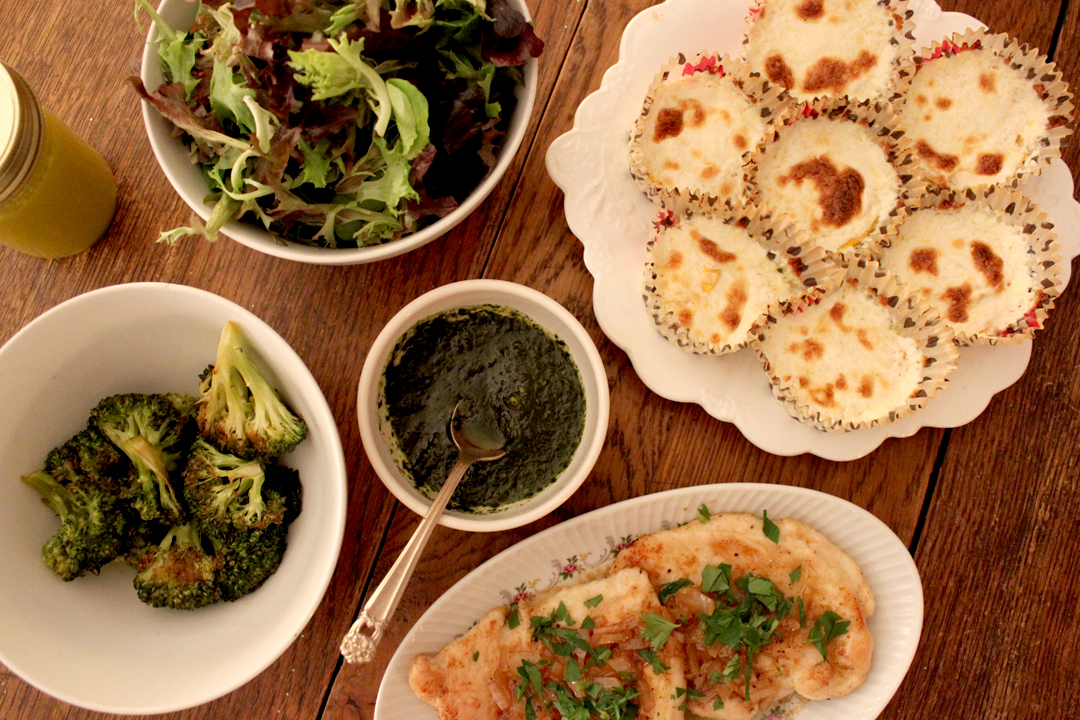 This was a very satisfying meal. Chicken with White Wine & Lemon (recipe below), Farmhouse Baked Ricotta (with sweet potatoes and basil sauce), Roasted Broccoli, and a green salad with my version of Rita's Dressing (with measurements! recipe below).
I had half a ball of fresh mozzarella in the fridge and decided to use it in lieu of cheddar or gruyere for the baked ricotta. Though it tasted good, the fresh mozzarella was too wet for this dish and made it a bit soggy. I recommend using a harder cheese, per the original recipe. For another view of the ricotta, scroll all the way down.
• Chicken with White Wine & Lemon •
from this recipe from Dinner A Love Story
2 tablespoons butter
2 tablespoons olive oil
4-6 boneless chicken breasts, pounded very thin (if they flatten into really large cutlets, you might want to halve them so they're easier to handle in the pan)
1/2 cup flour or so, salted and peppered, and piled on a plate
juice from 1 lemon
1/4 cup white wine
2 to 3 tablespoons chopped shallots*
handful chopped parsley
Heat 1 tablespoon butter and olive oil in a large skillet over medium-high heat. Dredge chicken breasts in seasoned flour then add to pan (in batches if necessary), frying about 3 minutes a side. Remove breasts to a platter after they have cooked through and tent with foil to keep warm. Once all the chicken is fried, add lemon juice, wine, shallots, and remaining butter to the pan and turn up heat, scraping the brown bits as you go. Once the sauce has reduced slightly, pour over chicken on platter. Top with parsley.
*Onion will work in a pinch.
_____________________
• Rita's Dressing (Nina's Version) •
Note: I like to make this in an 8oz jar because we rarely use a whole batch at once, this makes it easy to save and use the next day.
1/4 cup seasoned rice vinegar
the juice of 1/2 a lemon
1 teaspoon lemon zest, or tiny, super-finely slivered bits of lemon peel
1/2 teaspoon dijon mustard
1/2 cup olive oil (add more if it's too tangy for you)
Combine all ingredients in a jar, shake vigorously to combine. Serve over greens alone, or over greens with herbs (recommended), or whatever you like!