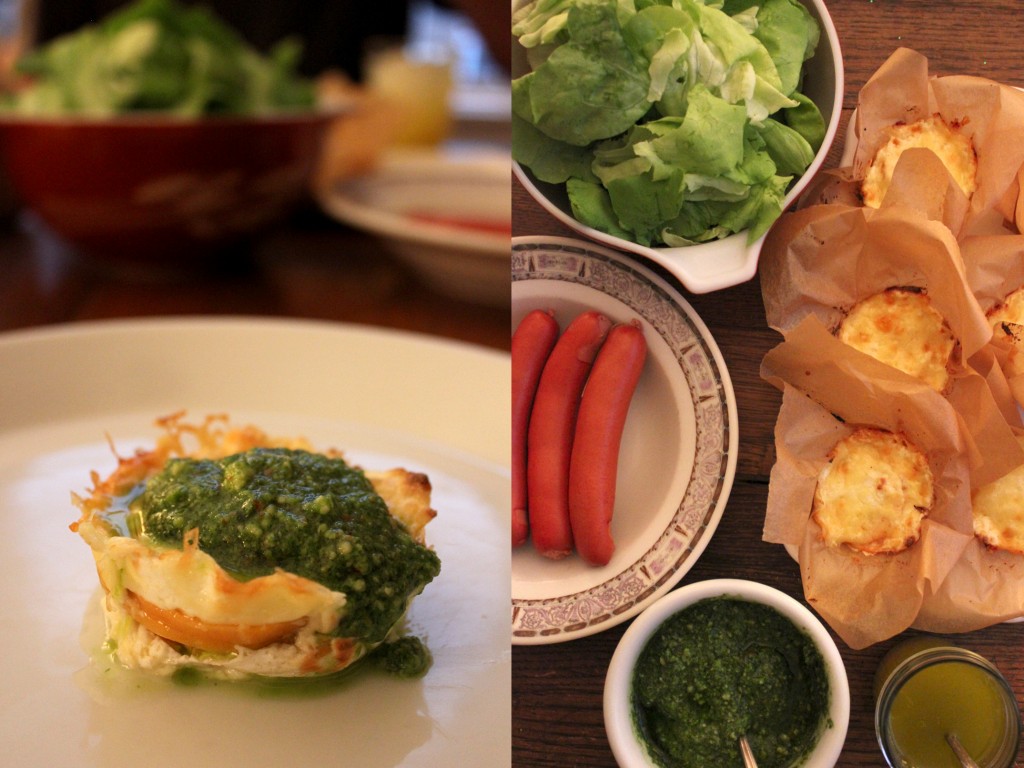 Shane and I love Farmhouse Baked Ricotta. It's super-simple and utterly delicious. Also really versatile and nearly impossible to mess up. You can read a little more about it here.
The original recipe comes from Easy Peasy Organic. My version of the recipe is below, it's a bit cheesier than the original, and the measurements have been converted from metric.
You don't need much besides a simple salad (from your CSA box, perhaps?) with this dish. For my meat-loving husband and child, we added some hot dogs from the Empire Market in College Point.
• Farmhouse Baked Ricotta •
adapted from Easy Peasy Organic
Makes 12 pieces, recipe is easily halved
10-15 min. for prep, 20-30 min. for baking
2 cups fresh ricotta
1 cup grated pecorino cheese
2 medium sweet potatoes or two medium yukon gold potatoes
1 cup grated cheddar or gruyere (or another cheese that you like)
approx. 1 cup arugula pesto
OR
herb sauce:
1/4 c extra virgin olive oil
2 handfuls basil leaves, washed and patted dry
1 tablespoon lemon zest
salt to taste
Heat the oven to 400 degrees. Line 12 muffin cups with parchment paper, a 5-6″ square of parchment should do for each muffin cup.
Combine the ricotta and pecorino using a fork to blend. Peel your potatoes and slice very thin (about 1/16th of an inch) using a mandoline or sharp knife.*
Put a scant tablespoon of the ricotta mixture in the bottom of each parchment-lined muffin cup. Divide the sliced potatoes between the cups, staggering them slightly (it's hard to stagger them a lot due to the size of the muffin cups, just don't stack one right on top of the other or they might not cook through). Top each tart with the remaining ricotta, and then the grated cheddar or gruyere. Each tart should consist of 4 layers – ricotta then potato then ricotta then grated cheddar or gruere. 
Bake for 20-30 min, until the tops are golden and puffed. Then remove, and set aside  to cool for 5 minutes or so. While the tarts are baking make the herb sauce or arugula pesto.
For the herb sauce put all the sauce ingredients in a food processor and pulse until smooth. For the arugula pesto, click here.
Let the tarts cool slightly before removing them from the parchment paper. Or serve them in the paper. Top with herb sauce or arugula pesto.
*If super-thin slicing is not for you, you can slice the potatoes about 1/8″ thick and boil them until they're slightly soft, then drain and pat dry.