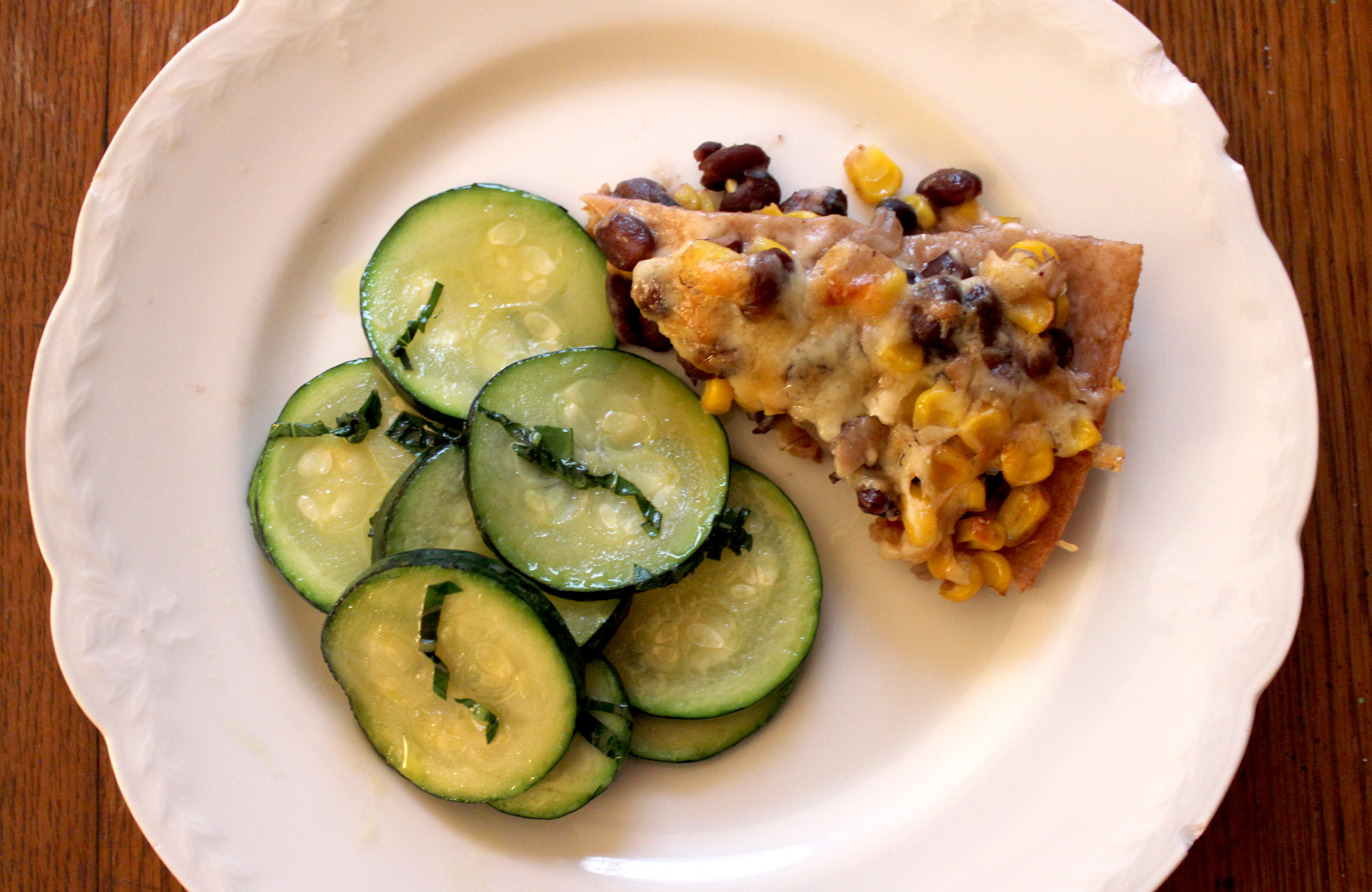 Now this is a casserole I can really get behind. Tortilla pie, yummy, easy, quick.
I've been thinking over the past few days, perhaps because of the cooler weather, that I need an arsenal of casserole recipes. The fact that my nesting instinct has kicked in way prematurely, is probably also responsible, at least in part, for me having casseroles on the brain.
Five year old Rose, pointed out that I really don't need to start freezing meals until September or October. But I can't help it. It's biological.
As with pasta salad, my conundrum was that I'd fixated on a type of dish that I am not generally a fan of. When I think of casserole, I think of something involving soggy egg noodles, cooked, canned tuna and possibly cream of mushroom soup – ew!
The last time I made a casserole, it was very tasty, but not quite my-kind-of-dinner enough for me to want to make again, unless I was invited to a football party.
There had to be something better out there, I put a request for ideas out on facebook. Good folks posted some great looking recipes.
Tortilla pie comes from the wonderful blog Dinner A Love Story. I have to admit, I was doubtful about the whole wheat tortillas, shouldn't they be corn? But I trusted DALS, and I'm glad I did. The pie was delicious.
Nice, fresh, CSA zucchini, sliced and sauteed in olive oil with slivered fresh basil and a sprinkling of sea salt, was the perfect accompaniment.
• Tortilla Pie •
from Dinner A Love Story, original recipe here
vegetable oil
1 large onion, chopped
1 clove garlic, minced
1 jalapeno, minced (optional)
1/2 teaspoon ground cumin
salt and pepper
a 12oz bottle of beer
2 cans black beans, drained and rinsed
about 1 scallion, chopped
1 package frozen corn (about 10oz)
3 cups grated cheddar cheese
about 4 whole wheat tortillas
Heat oven to 400 degrees. Saute the onion, garlic, jalapeno and cumin in some vegetable oil in a skillet until the onion is soft and translucent. Add the beans and the beer, and season with salt and pepper to taste. Simmer until the liquid is almost all gone. Add the scallion and corn, stir to combine and remove from heat.
Grease one large (or two medium – see note below*) pie plates with oil. Place a tortilla in the bottom of the pie plate. Top with about 1/2 cup of cheese and 1 cup of the bean and corn mixture. Continue layering, tortilla, cheese, bean/corn, about 4 times total, until everything is used up. The top layer should be bean and corn mixture topped with about a cup of cheese. 
Bake for 20-25 minutes until the cheese on top is  melted and a little bit browned. Serve with sour cream and salsa.
*I used two medium-ish-small pie plates and split the ingredients equally in half. Half a recipe was enough to feed our family of three with some left over. The other half went into the freezer!