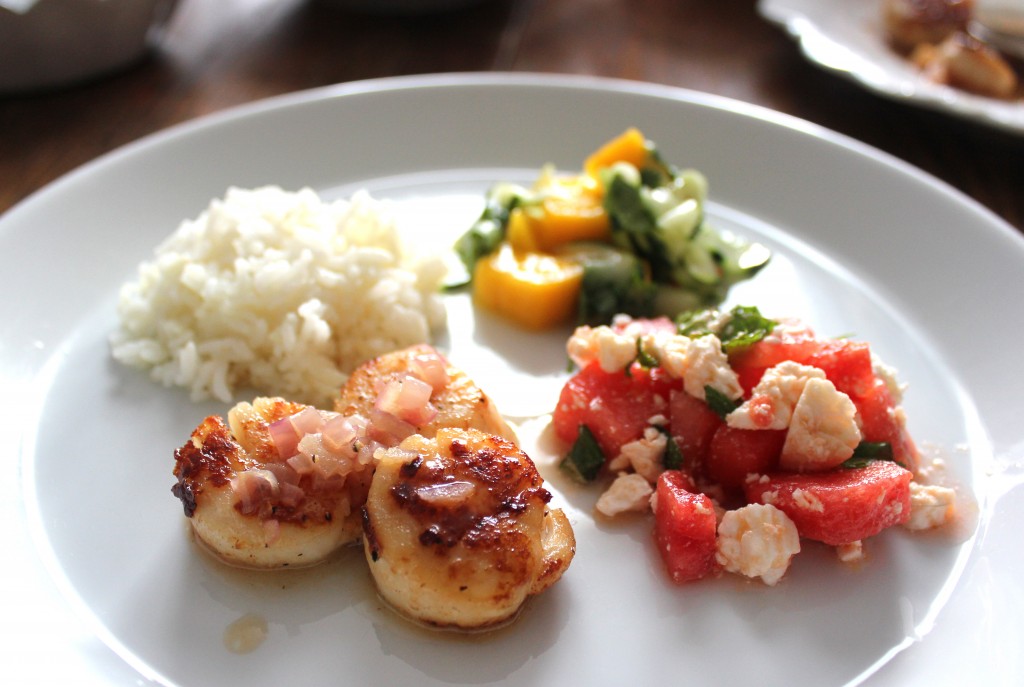 Tonight we had pan-seared scallops, watermelon & feta salad with mint from this pbs recipe (who knew pbs had recipes?), an Irishman's Thai cucumber and mango salad, and rice.
There's something about "pan-seared" that sounds very pretentious to me, particularly since pan-seared scallops are so easy to make. But, I don't know what else to call them, so here goes.
• Pan-seared Scallops •
Rinse and pat scallops dry with paper towels. Get a skillet really hot and add a decent amount of butter and olive oil, turn heat to medium-high. While butter and oil is heating, pat the scallops dry again (if necessary) and season both sides with salt and pepper. Put the scallops in the pan so they don't touch each other and cook each side for about 3 minutes or until nice and brown. Remove scallops to a plate, you can serve as-is at this point. Or, for a bit of sauce, clean the skillet and melt some butter in it. Add a minced shallot and cook until soft. Add a splash or two of white wine and simmer to reduce a bit, so it's saucy. Pour over scallops and serve with lemon wedges.
My fabulous sister-in-law Trish's brother David, owns a Thai restaurant in Wexford, Ireland. No this is not a riddle. Last week during one of our big family dinners in Ireland, Trish made the Thai cucumber and mango salad that they serve at David's restaurant. It was absolutely delicious. I asked for the recipe and was given the following two pieces of information: 1. It's all about the rice vinegar. 2. You have to cut the cucumbers "paaaper theen." Nevertheless, I think I managed to recreate it quite well tonight. It took 20 minutes start to finish.
• David's Irish-Thai Cucumber & Mango Salad •
2 cucumbers, seeded, peeled (all the way or in stripes), and sliced "paaaper theen" (a mandoline is great for this)
1 mango, peeled and cubed (you can use a carrot peeler to peel a mango)
1/2 – 3/4 cups seasoned rice vinegar (see my note here if you're not sure about what kind of vinegar to use, exactly)
1 bunch cilantro, leaves pulled from stems and coarsely chopped
a pinch of red pepper flakes, to taste
Combine all ingredients, taste for seasoning and refrigerate until ready to serve.