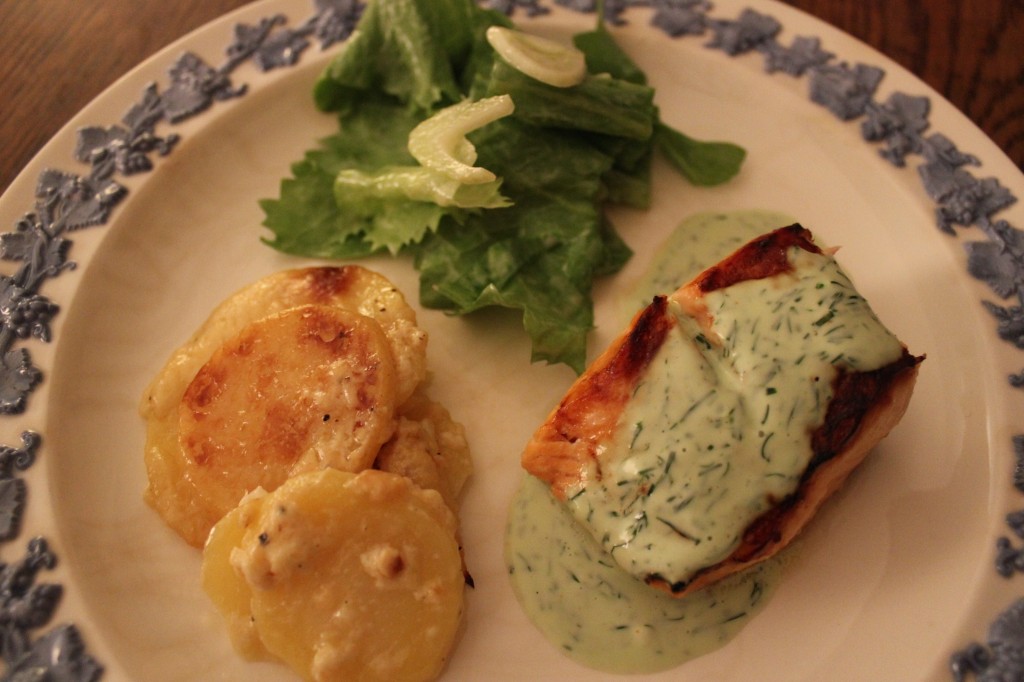 I tried a new recipe tonight, salmon with dill sauce. The recipe I used, calls for a cucumber dill sauce which I modified to suit the contents of my fridge. The salmon came out of the broiler crispy on top and tender inside, the dill sauce made the dish.
• Salmon with Dill Sauce •
Adapted from Bon Appetit
For the salmon:
Cook the salmon in the broiler, with lemon and orange juice, exactly as in this recipe from Bon Appetit.
For the Dill Sauce:
Using a food processor or stick blender, blend about 2 cups of washed, fresh, dill leaves with 1/3 cup of mayonnaise and 2/3 cups of plain yogurt. Add a dash of cayenne and season with salt to taste.  
We had my new favorite salad dressing over escarole lettuce and fennel. And for starch, some leftover potato gratin.
The Steady Table has been around for a few months now, but I've never posted a photo of my own kitchen. So, here goes. This is my kitchen in the middle of hurried weeknight dinner-prep, hairy legs and all.