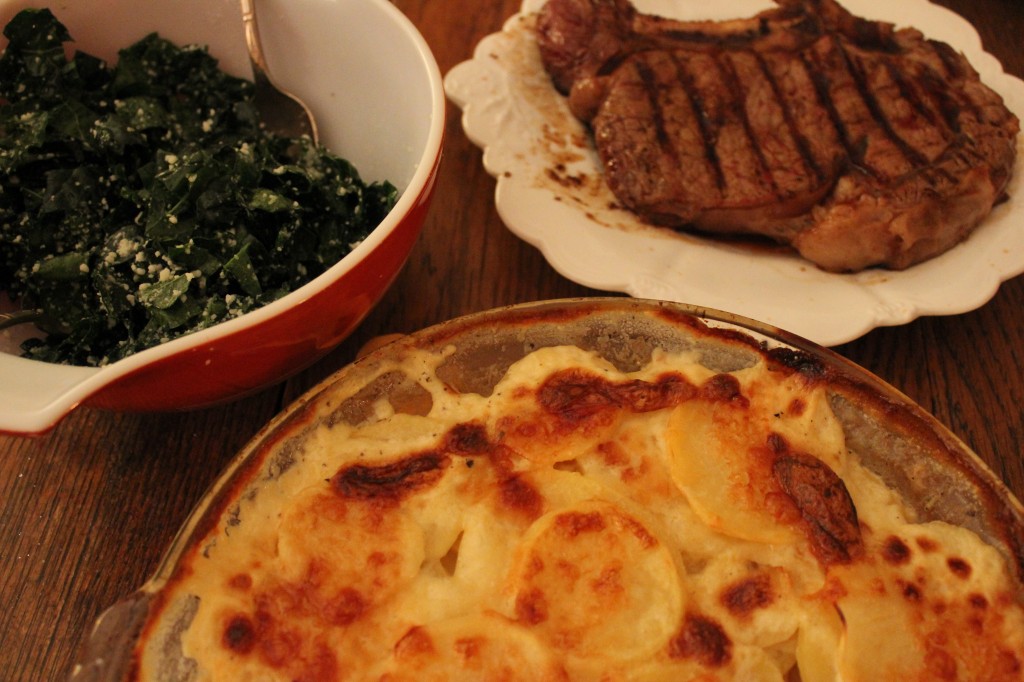 It seems kind of like a mixed message to serve steak and creamy, cheesy, buttery potato gratin with a raw kale salad, but I did.
The potato gratin we like is Gratin Dauphinois from Darina Allen's Easy Entertaining cookbook. I'll post my version of it below. In order to balance things out (or send mixed messages) I made  a variation on this raw kale salad.
• Gratin Dauphinois •
adapted from Darina Allen's Easy Entertaining
1 cup milk 
1/2 cup cream
1 clove garlic, minced
2 1/4 lbs potatoes, peeled and sliced thin, about 1/4″
2 tablespoons butter, cut into pieces 
4 oz cheddar cheese, grated
salt and pepper to taste 
Heat oven to 400 degrees. Combine milk, cream, minced garlic and salt & peper in a glass pie dish. Put pie dish in oven to heat milk & cream. Meanwhile, peel and thinly slice the potatoes and grate the cheese. When the milk bubbles, remove pie dish from the oven and add potato slices, try to separate them a bit, add butter pieces and top with grated cheese. Bake for 30-45 minutes, until browned on top and potatoes are cooked through.