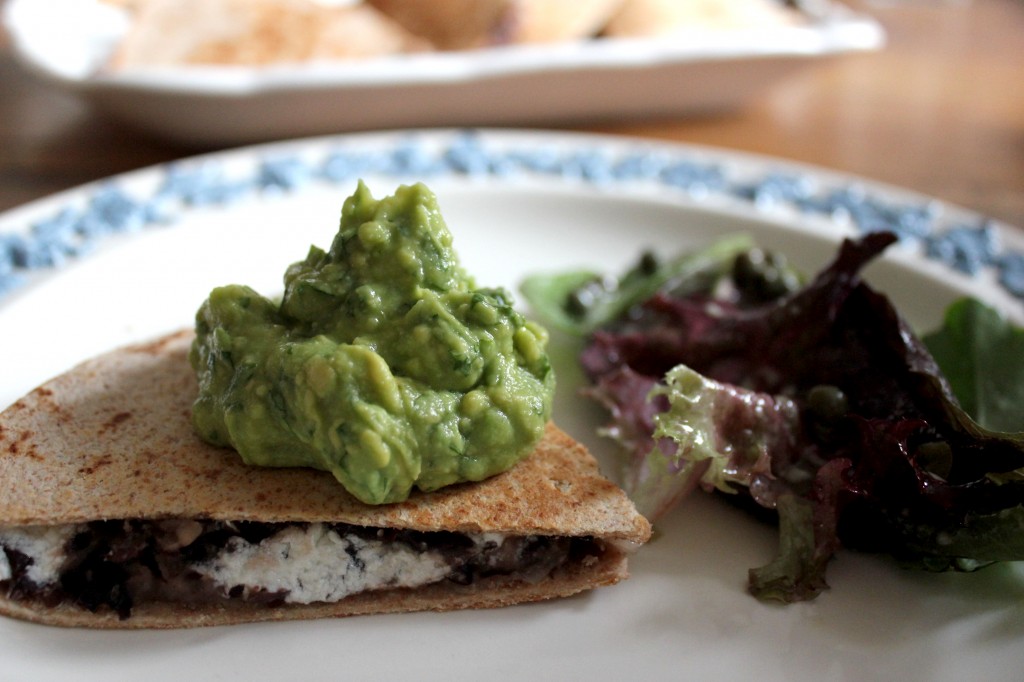 We never tire of this meal. Good old, Black Bean & Goat Cheese Quesadillas, quick and easy, loved by all. That sounds like an epitaph, but it's not.
The  original recipe, from Dinner A Love Story is here. The version I make, which is slightly different, is below. More posts on this recipe can be found here, here and here.
• Black Bean & Goat Cheese Quesadillas •
adapted from Dinner A Love Story
vegetable oil
1 to 2 garlic cloves, finely chopped
1 leek, white and light green parts only, cleaned well and finely chopped
1 teaspoon ground cumin
salt and pepper to taste
2 15-ounce cans black beans, rinsed and drained
1/3 cup water (more if needed)
6-8* 8-inch regular or whole wheat tortillas
4 ounces goat cheese
Heat about 2 tablespoons oil in a skillet over medium heat. Add garlic, leek, cumin, salt, and pepper and cook, stirring, until soft, about 3 minutes. Stir in beans and mash them with a large fork or potato masher. Add water and cook, stirring until most of water is absorbed, about 2 to 3 minutes. Remove from heat.
Set a large skillet over medium-high heat and add a little more vegetable oil. Place half of the tortillas on a flat surface, evenly distribute the bean filling between your tortillas and spread it so the tortilla is covered, leaving a up to an inch of space around the edge. Put blobs of goat cheese on top of beans and top with a second tortilla. Cook tortillas in the oiled skillet, flipping at least once, until they  are golden and cheese is melted, about 2 to 3 minutes. Remove to a dinner plate and place in a warm oven (or tent with foil) to keep warm. Repeat with remaining tortillas. Cut each quesadilla into 6 pieces and serve.
I like these with a simple salad and guacamole. Feel free to mess around with different cheeses, we've had great luck with cheddar and fresh mozzarella.
*Note: I like my quesadillas pretty full, so I just use 6 tortillas. If you like them a bit thinner use 8. Keep in mind that when you make them thick, it gets a bit messy with the cutting and you may need to shove some of the filling back in by hand.