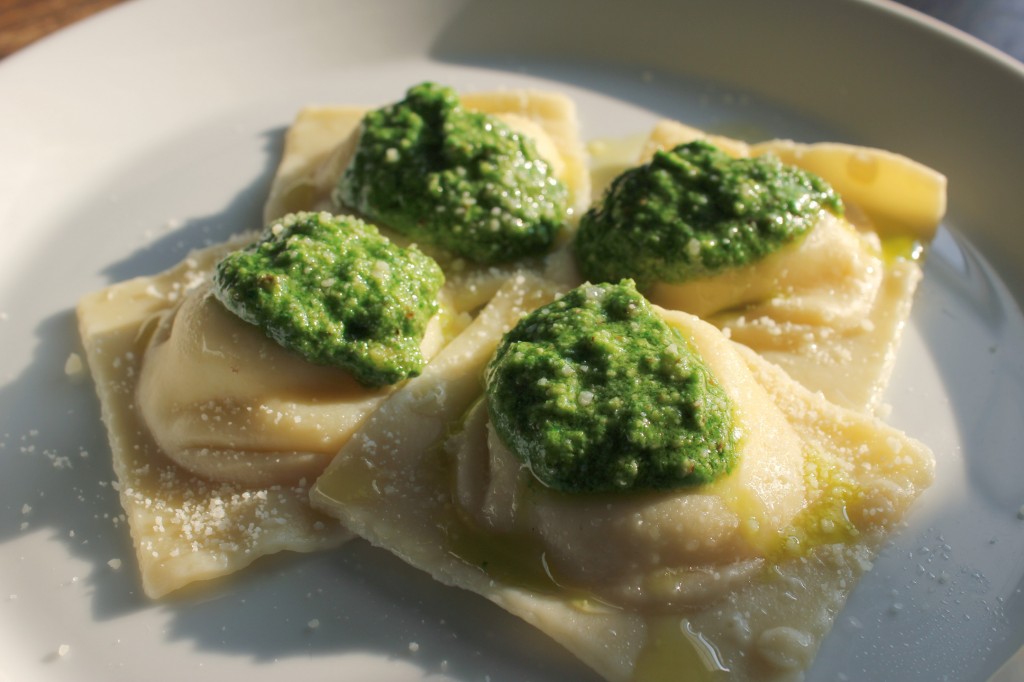 I feel like I've been doing some kind of Salad Challenge. Along the lines of: Can YOU eat 20lbs of salad greens in a week, with no help from your family? Take the Salad Challenge-enge-enge-enge-enge… (in monster truck voice)*
Yesterday I ate 4 green salads, today I had three (pregnancy has its advantages). But I'm still not making much of a dent.
This is the problem with the spring CSA box. As problems go, it's a good one to have.
If it were just the arugula and the mixed greens I could do it. But with the extra-large head of romaine, 4 bunches of bok choi, the salad turnips and the big bunch of red kale, it's just more than I can personally consume in a week.
It's really the salad greens that I worry about. They can't be blanched and frozen, and they don't cook down to a more approachable size.
And then I remembered arugula pesto. It's wonderful on cheese ravioli, and so much arugula goes into the pesto that you could probably count it as a one-dish meal.
Rose made my day by entertaining herself, without complaint, while I prepared dinner. She was in or practically in, our tiny kitchen the whole time, but that's fine with me. See photo at bottom.
*I'm not sure if it's really 20lbs, I'm terrible with volume. Rose and Shane can probably be counted on to eat a combined 5% of the greens.
• Arugula Pesto •
3 cups arugula, packed
3/4 cups olive oil
3/4 cups almonds (raw), walnuts or a combination of both
1/4 to 1/2 cup grated pecorino cheese
Put oil and arugula into a food processer, pulse until volume is reduced significantly. Add nuts and 1/4 cup of cheese, blend until it looks pesto-y. Taste, if it's not too salty, add up to another 1/4 cup of cheese. It keeps for a good while in the fridge, and can be frozen in small portions or ice cube trays, and thawed in the fridge.