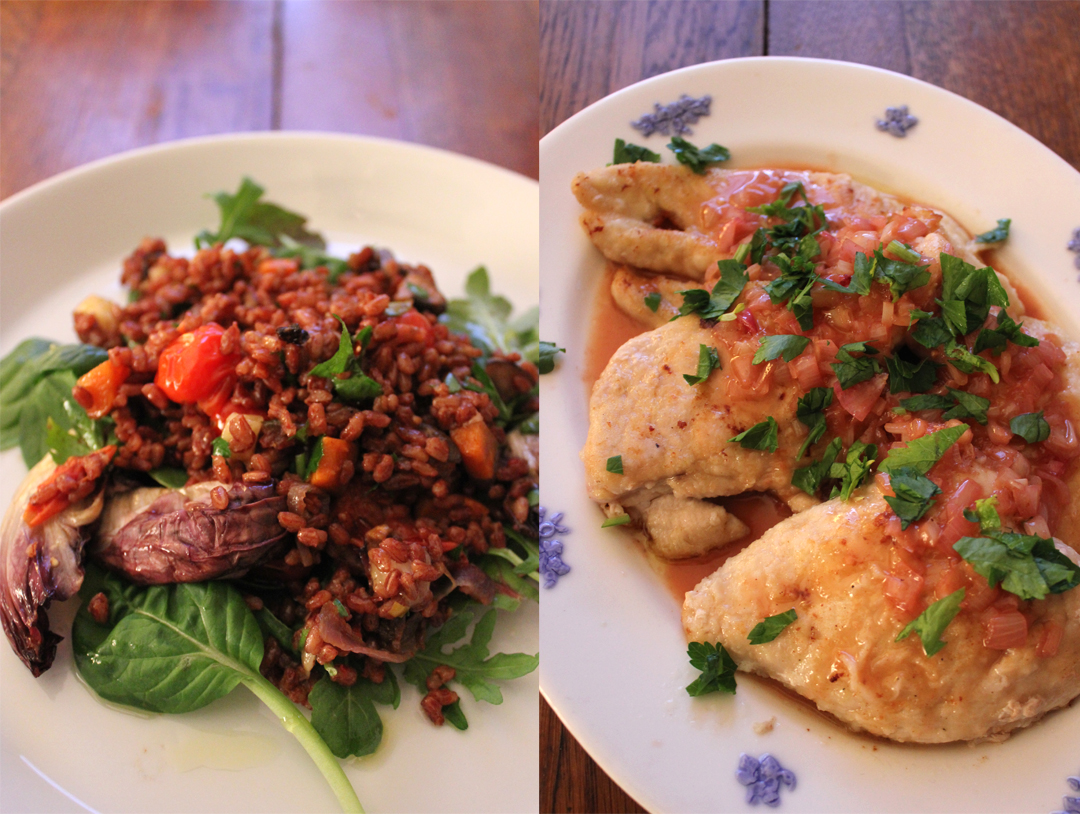 I've made this exact meal before. Chicken with Wine, Lemon & Butter Sauce, and Warm Red Rice Salad with Roasted Vegetables and Fontina.
The rice dish was not white enough, and had too many vegetables in it to get a nod from Rose and Shane. What I got from them instead was subtle praise over the chicken. I'm 99% sure I heard Rose utter a "yum" upon tasting it, and Shane ate 4 of the 5 breasts. That's a win in my book.
If your comfort zone extends beyond white rice, the red rice recipe is worth a try. I would be a great dish to serve a gluten-free and/or vegetarian guest. Here's the chicken recipe. Always a hit, it works with pink wine too, in a pinch.
In other exciting news, there was still a hint of daylight when we sat down to eat at 7:30.
• Warm Red Rice (or Farro*) Salad with Roasted Vegetables and Fontina •
from The Kitchn

2 medium carrots, peeled and cut into small chunks
1 cup grape tomatoes
6-8 cremini mushrooms, cut into small chunks
4 cloves garlic, peeled and quartered
1 small red onion, sliced
4 tablespoons olive oil, divided
1 teaspoon kosher salt
1/2 teaspoon pepper
1/2 of a small head of radicchio, cored and sliced into chunks
1 cup red rice or farro
2-3 ounces fontina cheese, cut into small cubes
small handful of chopped parsley
1 tablespoon balsamic vinegar
salad greens and olive oil (optional)
*I've never made this with farro per the original recipe, though I'm sure it's delicious that way. Both the red rice and farro variations are below.
Preheat the oven to 400 degrees.
Combine the carrots, tomatoes, mushrooms, garlic, and onion in a large bowl. Add 2 tablespoons of olive oil, salt, and pepper, and toss to coat. Spread the vegetables on a baking sheet lined with foil or parchment paper, and roast for 15 minutes, stirring once. Add the radicchio to the pan, toss to get it covered in a bit of oil, and cook everything for another 10 minutes.
For the red rice version: Combine red rice with 1 1/2 cups of water and a pinch of salt. Bring to a boil over high heat. Reduce heat to low and simmer for 20 minutes until soft but still chewy in the center.
For the farro version: Rinse and drain the farro. Bring 2 cups of water to boil, season with salt, and add the farro. Cook for 12-15 minutes, until al dente. Drain.
Combine the cooked farro and vegetables, then add the fontina and parsley. Whisk together the remaining 2 tablespoons of olive oil with the balsamic vinegar, seasoning with salt and pepper, and drizzle over the farro mixture.
Serve warm, on it's own or over a bed of mixed greens drizzled with olive oil.