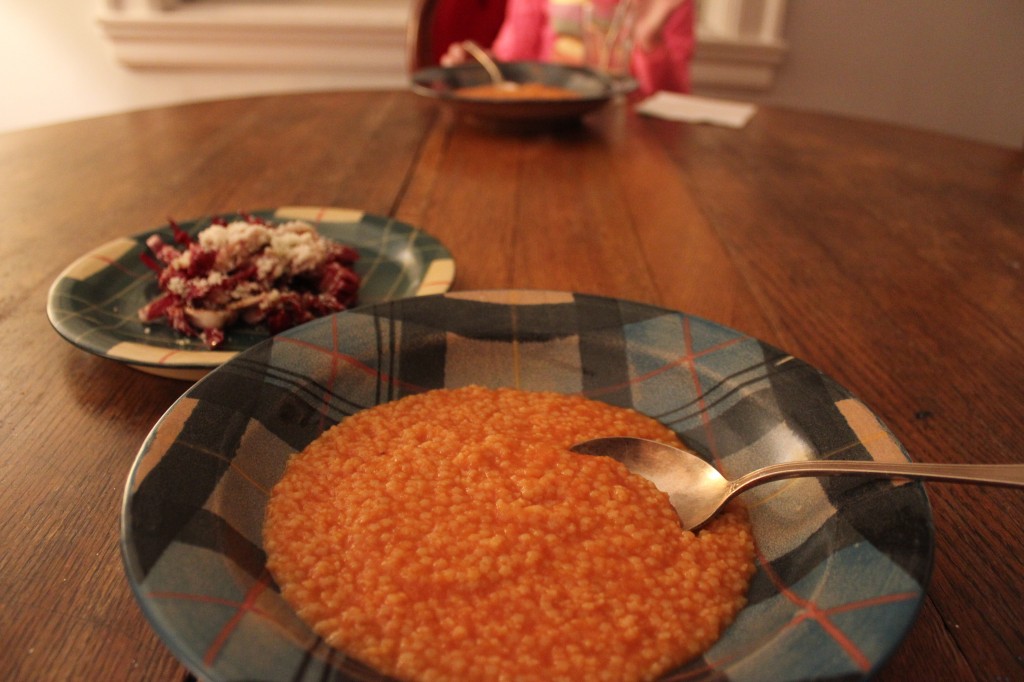 When my 5-year old, who has barely eaten in the past 48 hours, asked for "orange soup," I was thrilled. I wondered which orange soup she wanted. Was it squash? Carrot ginger? I was also confused, because I don't recall her tasting even one, of the many orange soups I've made in her lifetime.
With a bit more probing she revealed that she wanted "you know, the kind of orange soup with abc's in it." And it hit me that she was asking for soup from a can, that reddish-orange goopy stuff, with the extremely mushy, over-cooked, alphabet pasta in it.
If you're wondering how she would even know about canned alphabet soup, I wondered too. The answer can only be my mother-in-law.
Highly-processed food didn't exactly seem like the most nourishing thing I could put in my sick kid's empty stomach. My solution was to make it from scratch. It was simple, good, and best of all, she liked it.
• Canned Soup from Scratch •
2 tablespoons unsalted butter
2 yellow bell peppers, roasted, seeded and peeled
1 small onion, finely chopped
1 cup pureed San Marzano tomatoes
3 cups broth (I used vegetable, you could use chicken)
salt to taste
2 teaspoons sugar or honey (optional)
1/2 cup stars pastina
Roast two yellow peppers in the oven. While the peppers are roasting, sautee a small, finely chopped onion in two tablespoons of butter until soft and translucent. When the peppers are done, let them cool, then seed and peel them them and add them to the onions with the San Marzano tomatoes. Add 3 cups of broth, bring to a boil and cook for a few minutes. Puree soup using a hand-held (immersion) blender until smooth. Taste for seasoning, add salt and if it's a little to acidic, you can add some sugar or honey. (I find that the San Marzano tomatoes vary in sweetness from can to can, so sometimes you need a little sugar or honey, and sometimes you don't.) Bring broth to a simmer and add pastina and simmer until cooked. You're done.