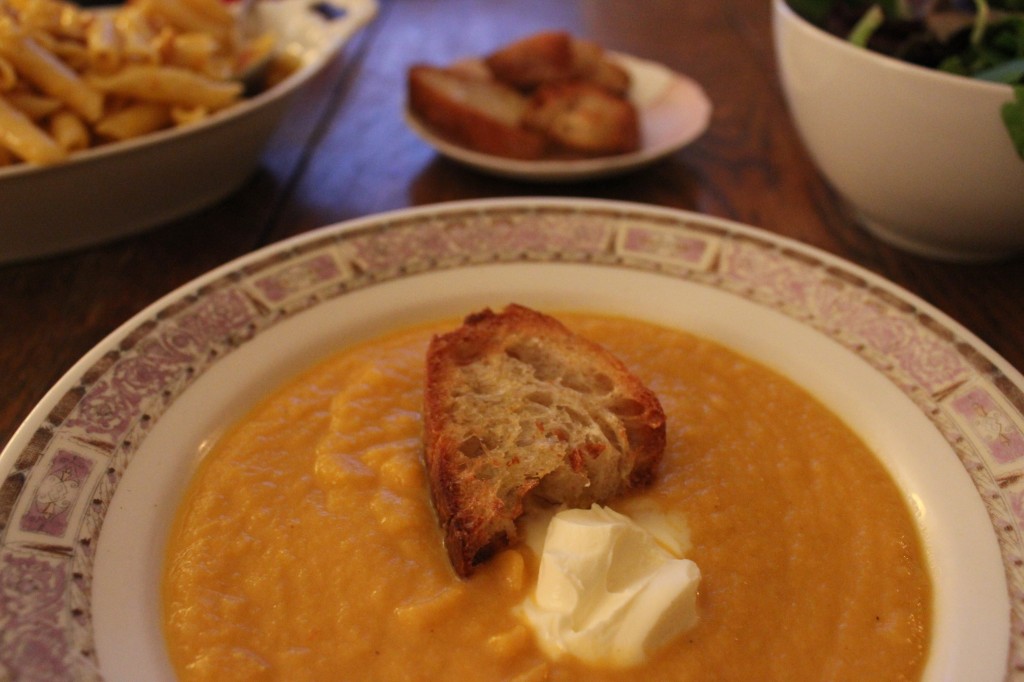 My good friend Britta, who encouraged me to start this blog, emailed me about soup this past weekend. What do I have against soup? She wanted to know. She even provided a recipe, which I will try sometime. I have nothing against soup. I think however, that I might be a bit reluctant to let go of summer. Perhaps that's why today, on a day that still felt safely un-fall like, I decided to make soup. Plus, I have a lot of csa veggies to use up.
• Squash Soup (for Britta) •
1 spaghetti squash
olive oil
3 tablespoons butter
1 medium yellow onion, coarsely chopped 
4-6 carrots (depending on size), peeled and chopped 
1 small tomato, cored and coarsely chopped
1 cup corn kernels (I used frozen organic sweet corn) 
1 32oz carton broth (veggie or chicken)
1/2 teaspoon cumin
1/8 teaspoon nutmeg
1-2 tablespoons miso paste
2 teaspoons sugar
crusty bread (optional)
creme fraiche (optional) 
Heat oven to 350 degrees. Halve the squash lengthwise and remove seeds with a spoon. Place on an oiled baking tray, cut side down, and bake for about an hour, until soft when pierced with a knife. Remove from the oven and let cool so that it's handleable. Melt the butter in a large heavy-bottomed pot. Add the onion and cook until soft and translucent, add the carrots, corn and tomato and cook for a couple of minutes. Scoop the flesh out of the spaghetti squash skin with a spoon. Add squash, cumin, nutmeg, broth, 1 tablespoon miso paste and sugar to pot. Simmer for 15 minutes. Turn off heat and blend with a stick blender until it's as smooth as you like. Season to taste with additional miso (for saltiness) and pepper. Serve with grilled bread and a dollop of creme fraiche. Note: My guess is that you could skip the tomato, and if you did you could also skip the sugar. I just had to use the tomato, it wasn't going to last.