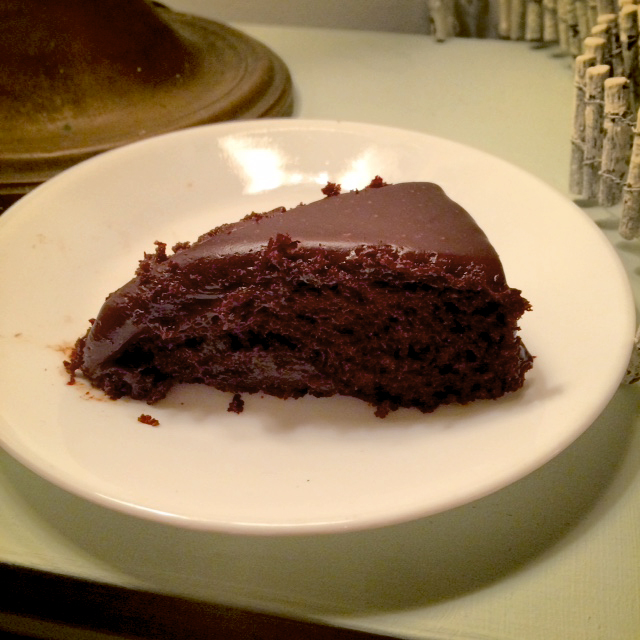 Remember the cake I made last weekend? I was testing out a recipe to bring to work to celebrate Jenya's birthday. One of the gals on our team is vegan and lately I've been enjoying the challenge of making a delicious dessert that everyone in our group can enjoy.
This amazing vegan chocolate cake was a roaring success. It's super-rich and moist, the frosting is heavenly, and it's quick enough that you can make it after putting the kids to bed on a weeknight.
• Delicious Vegan Cake Topped with Chocolate Ganache •
cake from this recipe and this recipe
for the cake:
1 1/2 cups all-purpose flour
1/3 cup unsweetened cocoa
1 teaspoon baking soda
1 cup sugar
1/2 teaspoon salt
5 tablespoons neutral oil (like corn, canola, or vegetable)
1 cup cold water
1 1/2 teaspoons vanilla
1 tablespoon cider vinegar
for the ganache:
6 ounces (1 cup) good quality semi-sweet chocolate chips
1/2 cup coconut milk (I used the kind that you get in the dairy alternatives section of the grocery store)
2 tablespoons maple syrup
Heat the oven to 350° F. Mix together the flour, cocoa, baking soda, sugar, and salt. Sift. In a separate bowl, whisk together the water, oil, vanilla, and vinegar. Whisk together the wet and dry mixtures. If lumpy, whisk until smooth, or pour through strainer in to a bowl and break up lumps, pressing them through. Mix again, and pour into a greased and lined 9-inch round cake pan. Tap the edge of the pan against the edge of the counter, or drop from 6 inches to the floor several times to pop air bubbles. Bake for 25 to 30 minutes, or until the top springs back when pressed gently. Do not over-bake. Cool before removing from the pan.
While the cake is baking, make the ganache. Put the chocolate chips into a small to medium sized heat proof bowl. Bring the maple syrup and coconut milk to a gentle boil in a small saucepan. When the mixture boils, pour it over the chocolate chips and let sit until the chocolate chips are melted. Whisk the mixture until smooth. Remove cake from pan and place it bottom side up on a rack. When cake is cool, slowly pour the ganache over the cake, letting it drip down the sides a bit.
Let sit for several hours for ganache to set, then remove cake from rack onto a serving plate. Serve at room temperature.