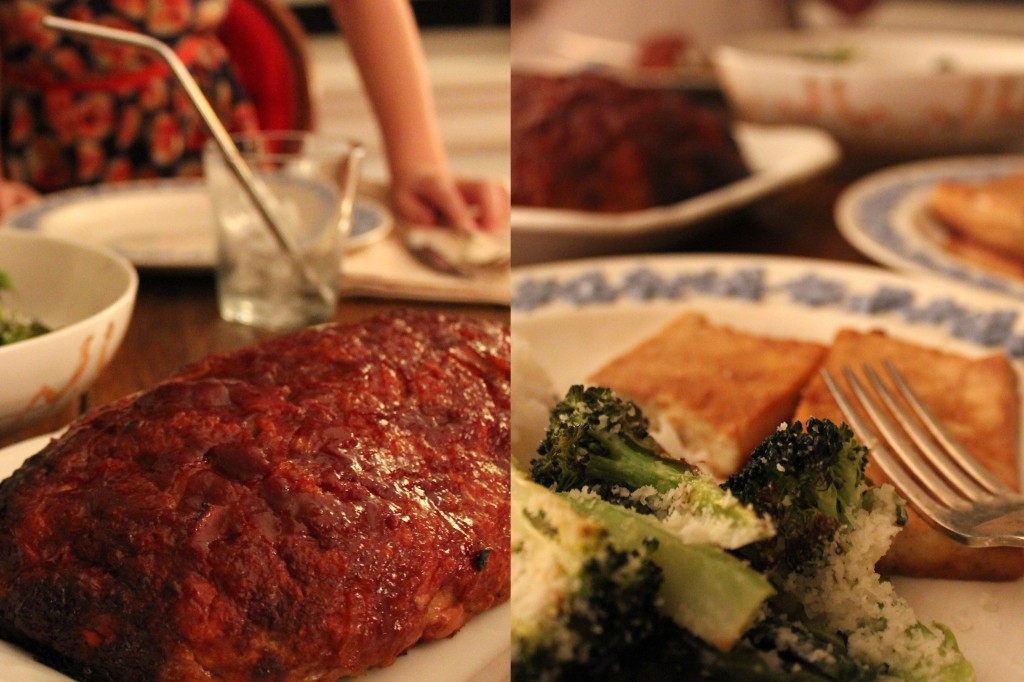 I know that I'm exceptionally meat-tolerant for someone who doesn't eat meat, but every now and then I feel like I've gone too far. Like tonight when it really hit me that I'd made a meatloaf. Meatloaf! It just feels weird.
This meatloaf however, Ina Garten's Turkey Meatloaf, solved some major dinner-related problems for me. I have to give it credit for that. Also, Shane ate almost all of it, which means that it was pretty good, or that he didn't have lunch.
Problem number one: Thursday night is a bitch. Somehow between bus drop-off and csa pickup and the resting and snacking that needs to happen in between, I can never manage to get dinner on the table by 7-ish. And 7-ish is when it dinner really needs to be on the table for the evening to go smoothly. Solution: This meatloaf is quick and easy to prepare, and then it bakes for an hour and a half leaving plenty of time to get your evening stuff done. The recipe says you can serve it hot, at room temperature, or cold in a sandwich. It's incredibly versatile as a make-ahead recipe.
Problem number two: Shane bought a ton of ground turkey at Costco. There is so much ground turkey that we barely have room for the important things, like compostable food scraps, ice and vodka. Solution: The recipe uses up 5 pounds of ground turkey. Hallelujah!
In case you're wondering what I ate, we also had rice, ad-hoc baked tofu, and another variation on that delicious roasted broccoli. This time I added a squeeze of lemon and parmesan cheese. Yum.