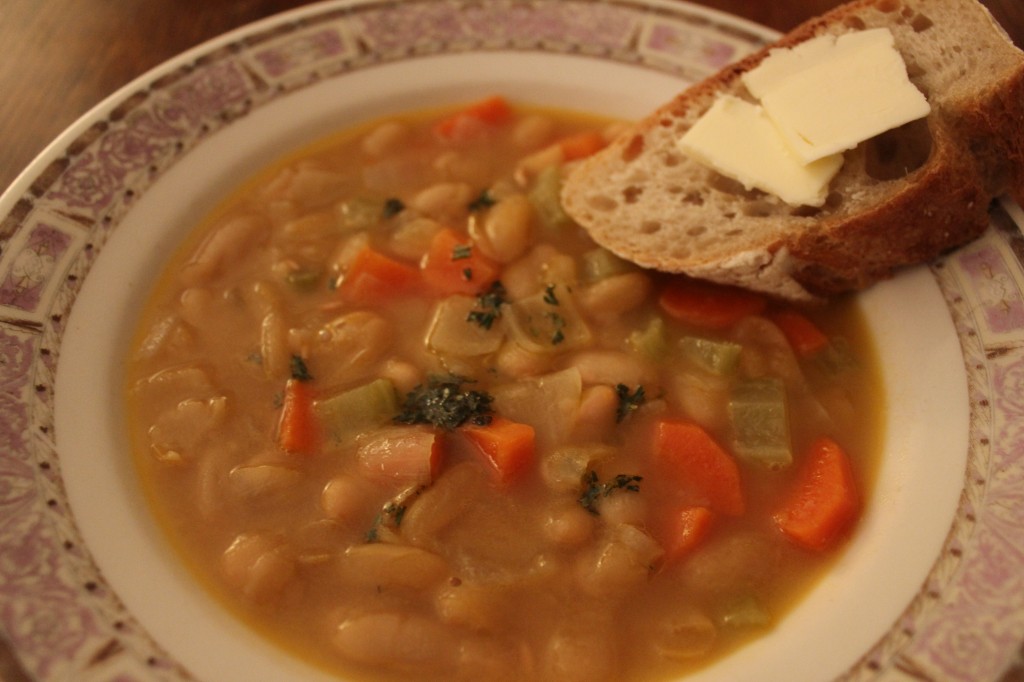 I wasn't able to go dairy-free for a second night. Like I said, I'm an addict. Seriously though, we were nearly out of olive oil so I was forced to use butter. And once I'd added butter, the gateway dairy, I figured why not throw in a Parmesan rind too. I'm glad I did.
I love this soup! It's quick and easy. The parmesan and rosemary oil give it the richness of a soup that takes longer to cook. It's vegetarian too. And everyone liked it. Score!
• White Bean Soup with Rosemary Oil •
Soup
2 tablespoons butter
1 medium onion, coarsely chopped
1 cup carrots (about 2 large) quartered lengthwise and chopped into 1/2″ pieces
1/2 cup celery (about 1 stalk) halved lengthwise and chopped into 1/4″ pieces
2 bay leaves
1 large (29oz) can Cannellini beans OR two small (15oz) cans, drained and rinsed
3 cups water mixed with 2-3 teaspoons* Vegetable Better Than Bouillon OR 3 cups broth**
1 Parmesan rind***
Rosemary Oil
2 teaspoons finely chopped fresh rosemary
2 tablespoons olive oil
Melt butter in a large saucepan or dutch oven. Add onion and cook over medium heat until onion is soft but not yet translucent. Add carrots, celery and bay leaves and saute for about two minutes longer, until onion is translucent. Add cannellini beans and water mixed with bouillon (or broth) and bring to a simmer. Add parmesan rind and simmer for 15 minutes, longer if you want a stronger Parmesan flavor. While the soup is simmering, mix the finely chopped rosemary with the olive oil and set aside. Ladle soup into bowls and drizzle with rosemary oil. Serve with crusty bread.
Notes: *I used three teaspoons of Better Than Bouillon and thought the soup was perfectly salted, if you like things less salty, try two teaspoons at first, you can always add more. **If you are going to use broth and you're not a vegetarian, I highly recommend College Inn Chicken broth, they make an organic version too. It is by far the best tasting store-bought broth around. ***A Parmesan rind is the rock hard end bit of the Parmesan cheese that invariably ends up at the back of the cheese drawer.