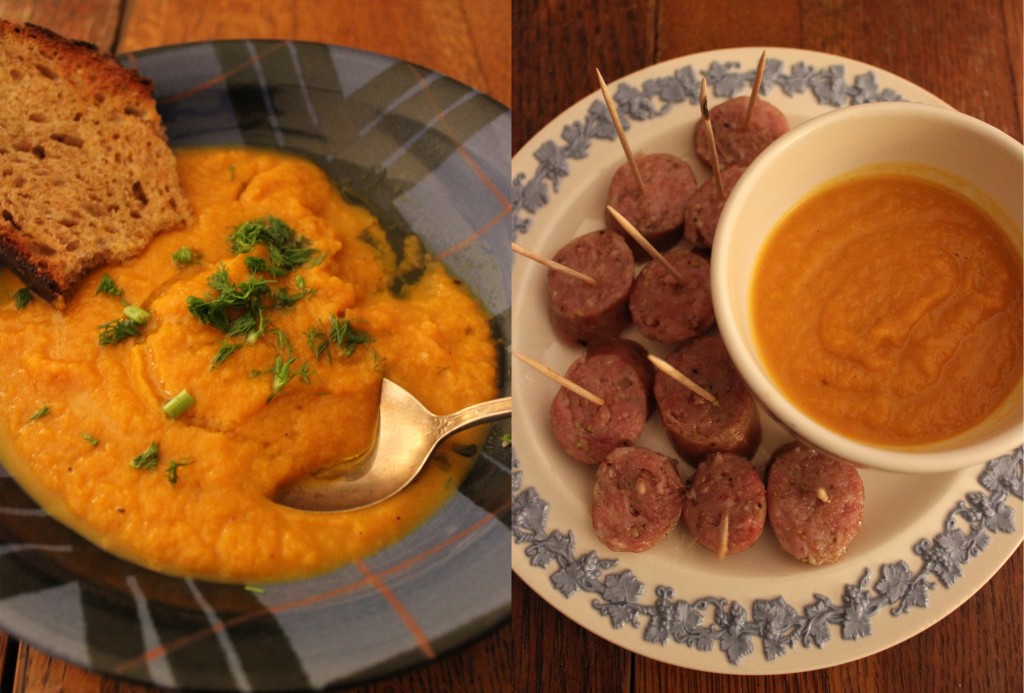 I'm a serious dairy-junkie. But for love, I am willing to leave it out, for a night or two. Perhaps.
Shane has a cold and doesn't like to eat dairy when he is congested. Most of the soups I make contain butter, cheese or cream of some sort. Fennel & Carrot Soup is dairy-free, and delicious! I made mine vegetarian, vegan too, see notes below*.
Shane is not a big soup guy. Because of his size, it's not one of the things he considers a 'proper meal.' He had two bowls and even said it was really good soup. This is huge.
We had our soup with grilled bread. Rose had a side of sausage because she was prepared not to like the soup. Grilled bread for dipping made her a convert.
*Notes: I had two hunches about the soup recipe when I first read it. One was that it would need more salt and the other was that with the carrots and onion quartered, the fennel would cook way too fast if sliced 1/4″ thin as the recipe instructs. If  I were to do this again, I'd either slice the fennel 3/4″ thick or slice the carrots and onion into eighths instead of quarters. To make the soup vegetarian, and a bit saltier, I used 3 1/2 teaspoons of Vegetable Better Than Bouillon, dissolved in 2 1/2 cups of water, instead of using broth. If you like things less-salty, use less bouillon, you can always add more later since it's a paste.