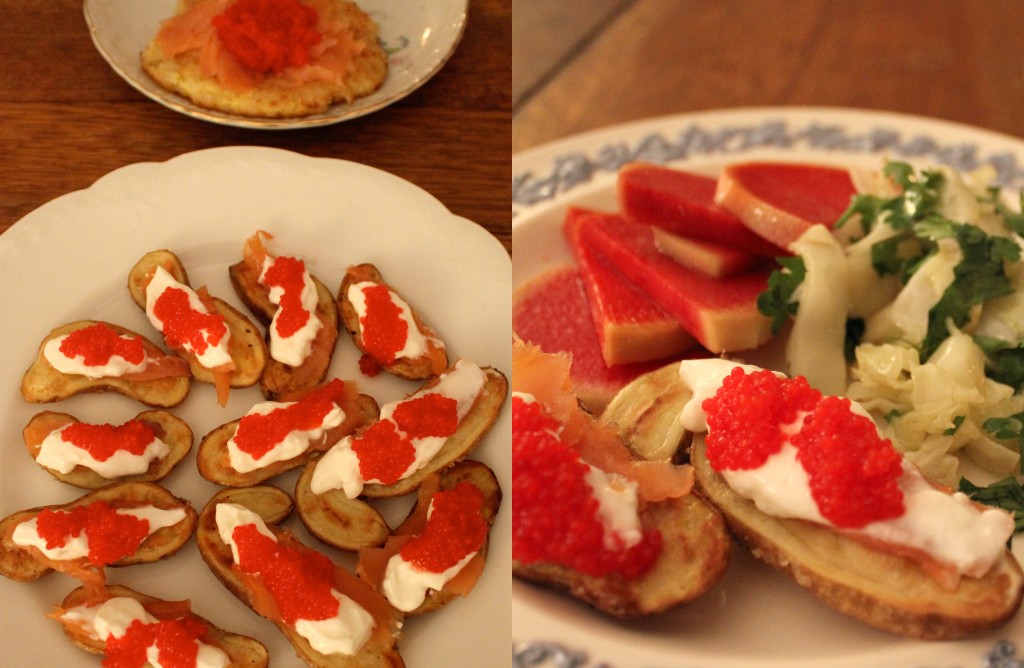 A fellow mom in the neighborhood posted an image on facebook of potatoes topped with smoked salmon, creme fraiche and red caviar, that she'd made for Thanksgiving. I oohed and ahhed and promised to make the salty-topped potatoes for New Year's Eve. But I couldn't wait that long. I made them tonight, for, um, Tuesday Eve?
Because Rose doesn't like potatoes or creme fraiche, I substituted rice pancakes for the potatoes in her portion, and left out the dairy. For veggies we had sauteed cabbage with fresh cilantro, simple and good. And a watermelon radish salad that looked better than it tasted.
• Fingerling Potatoes with Creme Fraiche, Smoked Salmon & Caviar •
Heat oven to 400 degrees. Cut potatoes (you can also use small, new potatoes) into approx. 3/8″ slices, or just halve your potatoes if they're small. Toss potatoes with olive oil, salt and pepper and place in one layer, on a baking sheet. Bake potatoes, turning once, until golden, cooked through and no longer sticking to the baking sheet. Top with a piece of smoked salmon, then creme fraiche, then red caviar. Serve on a white platter.