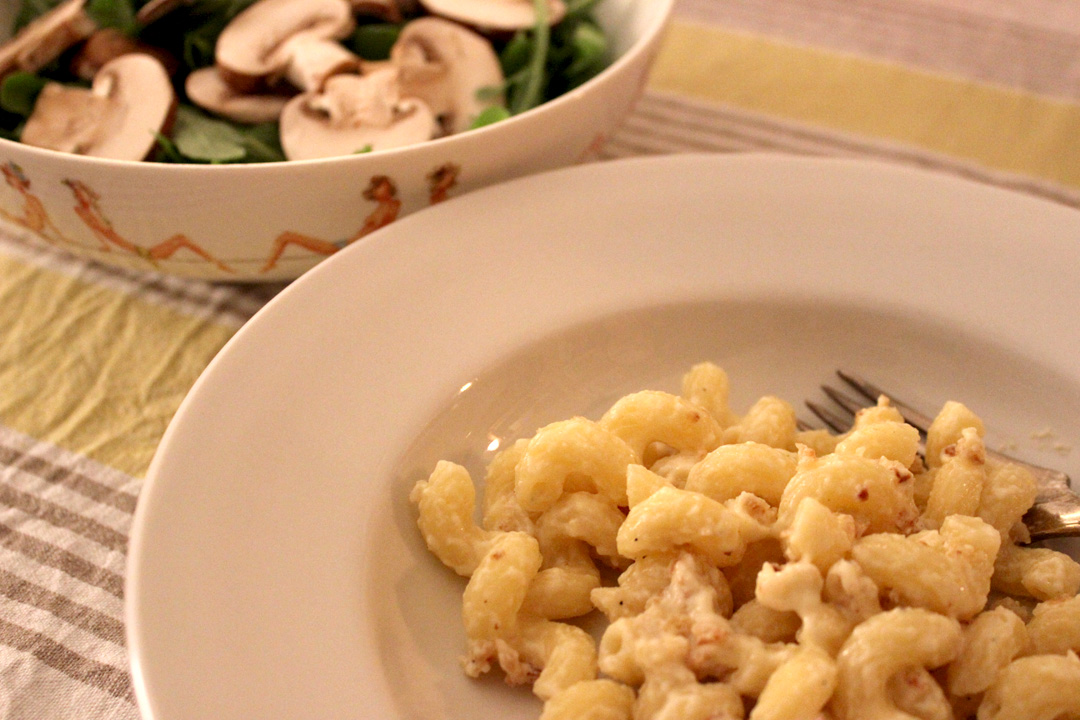 This recipe comes from the May 2014 issue of Martha Stewart Living. It's such a hit that we've already had it twice, and it's not even May yet!
It's kind of like a combo between Pasta alla Carbonara (without the carbonara) and macaroni and cheese. A great, quick alternative to the big-deal baked mac & cheese we all love so much.
This recipe is delicious, relatively quick, and nearly perfect for a weeknight. I say nearly perfect because it requires that you make your own breadcrumbs by trimming the crusts off of a ciabatta and then pulsing it in the food processor. I don't like to haul out my food processor on weeknights.
Maybe that sounds silly, but the removing it from the shelf and then washing the parts is just too much for a weeknight in my book.
Because we liked this dish so much, I decided to make a bunch of bread crumbs at once and freeze them. That way, next time I make it, the breadcrumb-making step is already taken care of.
A couple of other notes: You could probably save some time by buying pre-grated cheddar cheese, if you're into that. It seems like 1 cup is going to be way too much pasta cooking water, but it's not, the sauce continues to thicken as it sits. I make my cheese measurements a bit generous.
• Stove-Top Macaroni & Cheese •
from Martha Stewart Living Magazine
2-3 slices rustic bread (such as ciabatta), trimmed of crusts and cut into 1-inch pieces
1 tablespoon butter (recipe calls for unsalted, but salted is just fine)
1 lb fusilli or cavatappi (the recipe calls for spaghetti but I prefer a curly pasta)
3 large eggs
1/2 cup grated parmesan cheese
1/2 cup grated cheddar cheese
1/2 cup heavy cream
1/2 teaspoon dijon mustard (this is essential)
Pulse the bread in a food processor until coarsely ground, or use breadcrumbs you've made previously. Toast breadcrumbs in a large skillet over medium heat, tossing until golden and crisp. Turn off the heat and add the butter, stirring to coat the bread crumbs. Set aside.
Cook the pasta in a large pot of salted water until al dente. Reserve 1 cup of cooking water then drain pasta.
While pasta is cooking, whisk together the eggs, cream, cheeses and mustard in a bowl. Season with salt and freshly ground pepper. 
Return pasta to pot and add cheese mixture, cook over low heat, stirring until sauce thickens, about 2 minutes. Add reserved pasta cooking water 1/4 cup at a time, stirring to make a creamy sauce. Top with bread crumbs and serve immediately.