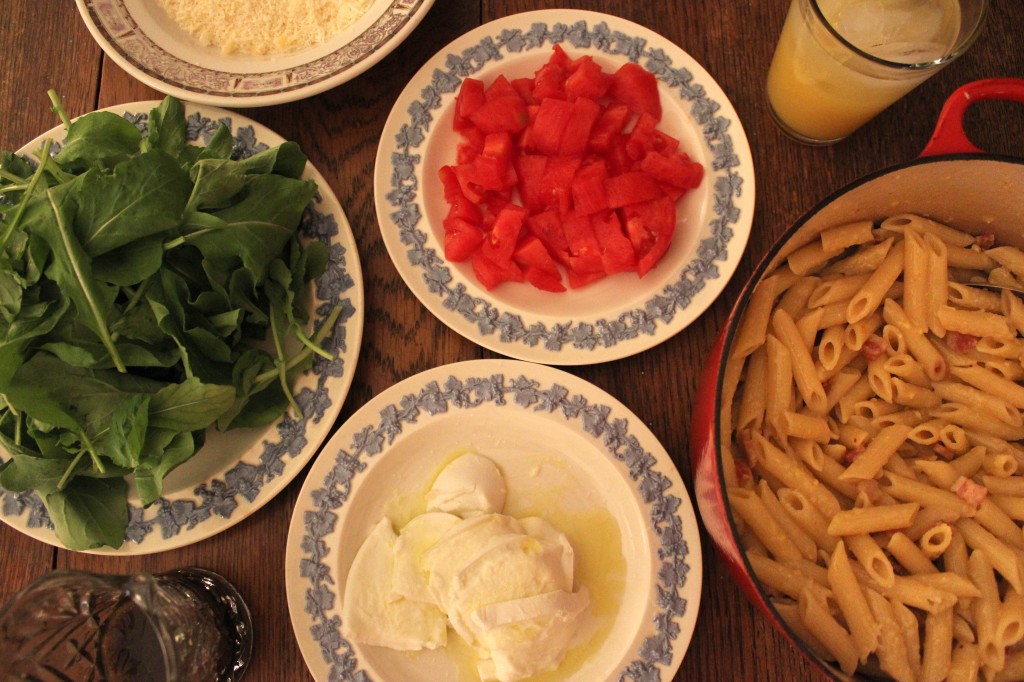 I've mentioned before that Shane is an unofficial-award-winning Pasta alla Carbonara maker. Tonight, he proclaimed his Carbonara "the best ever". It was good, juicy-eggy-salty good. His never before published recipe is below. With it, we had buffala mozzarella, arugula, tomatoes and a lovely sesame-balsamic dressing that Shane made.
• Shane's Famous Pasta alla Carbonara •
1″ thick slice of pancetta cut into 1/2″ x 1/4″ chunks
2 tablespoons olive oil
2 tablespoons butter
1 teaspoon red pepper flakes
1lb pasta (Shane prefers penne or bucatini)
5 eggs, beaten
1/4 cup olive oil
2 cups freshly and finely grated parmesan cheese 
Put a pot of water on to boil. Brown the pancetta in a dutch oven or heavy bottomed pan. Turn off the heat. Add about 2 tablespoons olive oil, 2 tablespoons butter and 1tsp red pepper flakes to pancetta, cover with lid and set aside. When the pasta water boils add a lot of salt, stir and then add pasta, stir again so pasta doesn't stick together. Stir every few minutes. Meanwhile, beat 5 eggs with 1/4 cup of olive oil. Finely grate about 2 cups of parmesan cheese. The cheese needs to be finely grated in order to melt and create a smooth sauce. When pasta is ready, reserve 1 cup of the cooking water and drain. Add pasta to pan with pancetta, stir to coat. Put pan on range top and turn heat to high, cook for about a minute. Turn flame off and immediately pour in egg mixture, stirring constantly so egg doesn't curdle. While still stirring add about 1 cup of parmesan until you achieve a thick, creamy egg sauce. If sauce is too thick, thin with pasta water. Serve immediately with remaining parmesan for sprinkling.