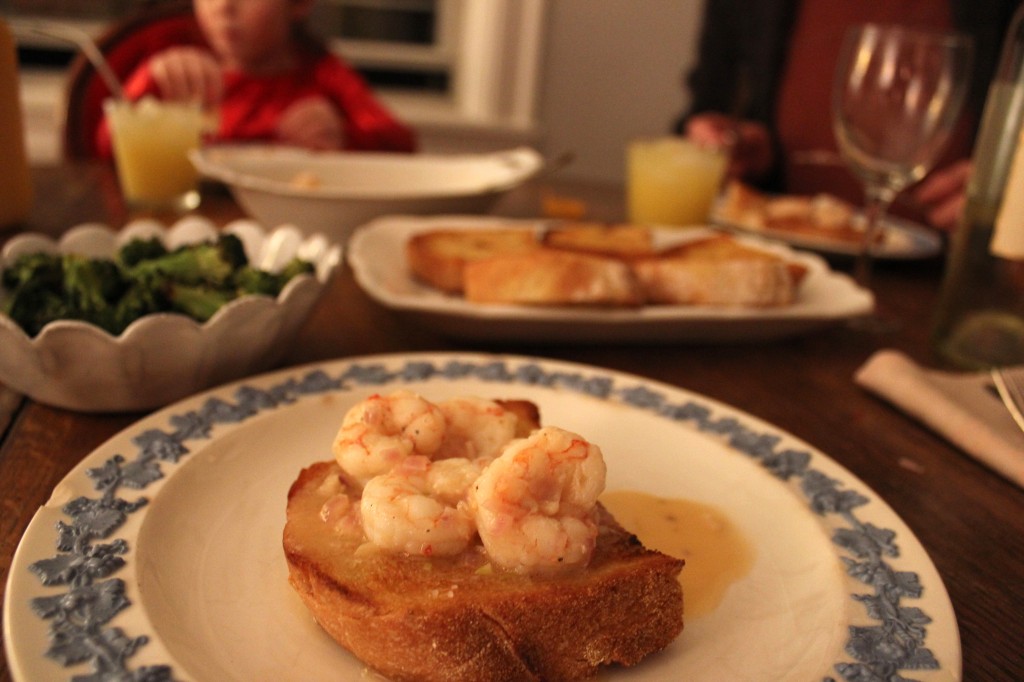 Tonight I told Rose we were having shrimp for dinner and asked how she'd like it prepared. "Well, I would like it cooked" she replied. Done.
I am very happy with the results of my Shrimp Scampi recipe modification. I wanted it to be extra saucy so that it could be served over grilled bread. The result was excellent even though I forgot to add the parsley. We had roasted broccoli on the side.
• Shrimp Scampi, for serving over Grilled Bread •
(modified from this Shrimp Scampi recipe)
1lb peeled deveined shrimp, large shrimp work best
6 tablespoons butter, divided
1 small shallot, minced
1 clove garlic, minced
1/3 cup white vermouth (or dry white wine)
1/3 cup broth
2 tablespoons lemon juice
chopped fresh Italian parsley
I find it's best/easiest to prep everything before you get started on this one, as the cooking is pretty fast. Chop your shallot, garlic and parsley, squeeze the lemon and measure out and combine the broth and vermouth (or wine). Before you start cooking, prep the bread so it's all ready to pop in the broiler.
Rinse and pat the shrimp dry with paper towels. Melt 4 tablespoons butter over medium heat in a large saute pan. When the butter foams, add the shrimp in one layer. Cook shrimp for one minute, without stirring and then add garlic and shallots. Cook for another minute, flip shrimp and cook for two minutes more. Remove shrimp from pan to a serving bowl, leaving butter, shallots & garlic in pan. Turn heat to high and add vermouth, broth, lemon juice and additional 2 tablespoons of butter. Cook sauce for about 3 minutes over high heat while you're making the grilled bread, until it is reduced and slightly thickened. Pour sauce over shrimp and serve shrimp and sauce over grilled bread.