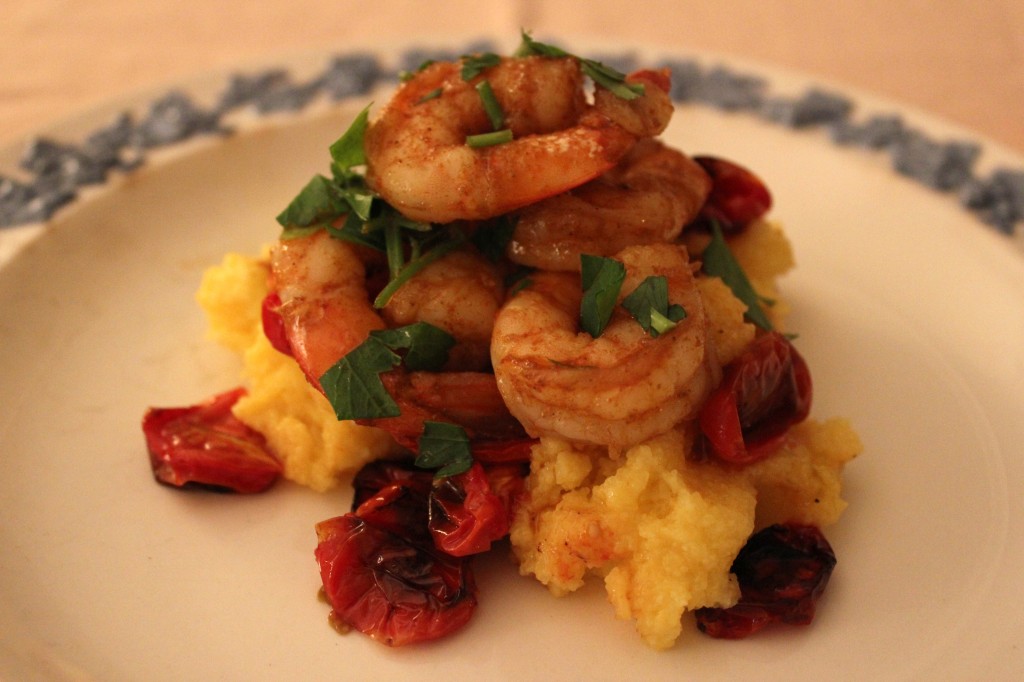 This is a tasty, quick-to-prepare meal, except for the tomatoes, which have minimal hands-on time and can be made ahead. I served it with a simple salad.
• Polenta with Oven Roasted Tomatoes and Shrimp •
For the tomatoes: Heat oven to 400. Line a baking tray with foil and coat generously with olive oil. Rinse and halve a pint of grape tomatoes, lay them cut side up on the baking tray and sprinkle with salt. Bake for 30-45 minutes until shriveled, pruney and a little bit blackened, but not too much (see photo here.) Set aside to cool.
For the shrimp: I used Mark Bittman's Simplest and Best Shrimp recipe but with smoked paprika instead of regular. Prep all the ingredients for the shrimp, and have them ready to go, then make the polenta.
For the polenta: bring 4 cups of salted water to a boil. When water boils, pour in 1 cup of corn meal or quick-cooking polenta in a slow, steady stream, mixing constantly. Reduce heat to low and cook, stirring for 5-10 minutes, until cooked through. The polenta should be soft, like hot cereal, and not crunchy. Stir in 3 tablespoons of butter and season with salt and pepper to taste. Remove cooked polenta to a serving dish, top with roasted tomatoes and cover to keep warm.
Heat the olive oil in a large skillet, over low heat. Add the garlic and cook until it turns golden, about a minute or two. Add the shrimp, salt, pepper, cumin and smoked paprika and cook, stirring, until shrimp is cooked through. Transfer to a serving dish, top with parsley and serve over tomatoes and polenta.