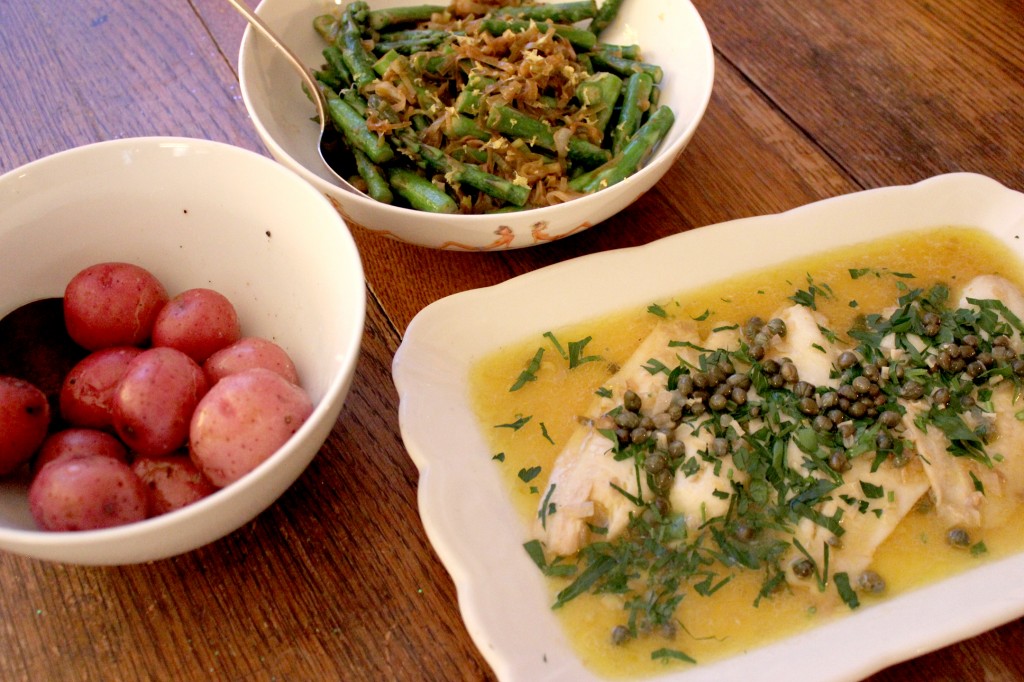 Tonight's fish recipe, Oven-poached Pacfic Sole with Lemon Caper Sauce is from the New York Times. My dad will be so proud, he's an avid NYT recipe-clipper. I used flounder instead of sole, because we have a big bag of frozen flounder in our freezer.
We got the big bag of flounder filets at Costco, and I don't recommend them. We will eat them all, because I hate to waste food, particularly food that was once an animal, but they're just not that good. They taste fishy in a way that fresh, good-quality fish never does.
To mask the inferior flavor of the fish, a recipe like tonight's, with strong flavors—garlic, lemon, capers—works really well. We were out of white wine because I drank it, so I used broth instead. The broth worked well but I bet wine works even better.
I couldn't decide on an asparagus* recipe. I considered Absurdly Addictive Asparagus, but it has pancetta in it, and I am wary of pine nuts because of pine mouth. I was tempted by Nobu's Fried Asparagus with Miso Sauce because I'm a sucker for anything with miso in it, but I wasn't in the mood for deep-frying.
In the end, I made Absurdly Addictive Asparagus but left out the pancetta, added extra butter and half a teaspoon of miso paste, used the leek because both recipes called for leek, left out the garlic and orange zest and added extra lemon zest. It was really, really good.
For Shane, we had new potatoes with butter, salt & pepper. He ate them all.
*If you have a young person at home who's a 'picky-eater,' or is 'unenthusiastic' about veggies, use this trick. To get Rose to try asparagus I told her about the interesting after-effects (it makes your pee smell funny). She immediately wanted to try it. I used the same concept to get her to try beets. She now likes both.