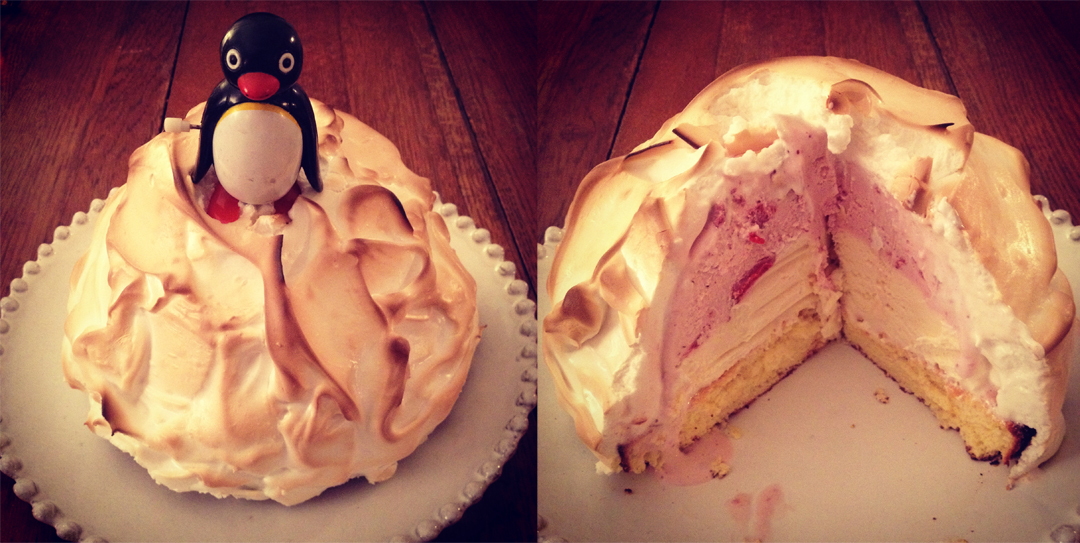 This New Year's Eve was nothing like last year's. The baby and I snuggled off to bed at 9:00. Shane and Rose stayed up until midnight playing cards, Spot It and who knows what else.
At midnight they went up to the roof—so as not to wake us up—and set off some questionable poppers that my sister bought from a street vendor. I don't know the details, but word is the poppers were kind of scary.
There was no elaborate meal, just a simple lasagna, roasted asparagus and a bottle of bubbly that we couldn't finish. As I said, nothing like last year… except for the dessert.
Rather than a recap of this tumultuous, but ultimately rewarding year, I'll leave you with this, New Year's Cake (aka Baked Alaska). Something sweet for the New Year, and a tradition to carry on. Wishing you all the sweetest 2014, I think we're off to a good start.
• New Year's Cake (aka Baked Alaska) •
original recipe from Saveur Magazine
For the filling and cake:
2 pints strawberry ice cream, slightly softened (you can use whatever flavors you want, of course)
Unsalted butter, for pan
½ cup cake flour, plus more for pan (cake flour is good but not essential, it will come out fine if you use all purpose)
¼ tsp. kosher salt
½ cup sugar
3 eggs
1 tbsp. fresh lemon juice
½ tsp. grated lemon zest
For the meringue:
¼ tsp. cream of tartar
4 egg whites
½ cup sugar
For topping:
Toy penguins (optional, and yes, we know penguins don't really live in Alaska – you can use caribou or polar bears if you prefer)
Instructions:
1. For the filling: Line a 7″-diameter bowl with a 15″ piece of plastic wrap, allowing excess to hang over rim of bowl. Pack ice cream into bowl, smoothing top, and freeze until solid, at least 4 hours.
2. For the cake: Heat oven to 325°. Grease and flour an 8″ round cake pan; set aside. Whisk together flour and salt in a bowl; set aside. Beat sugar and eggs in a bowl on medium-high speed of a hand mixer until tripled in volume, about 5 minutes. Stir in juice and zest; fold in flour mixture. Pour into prepared pan; bake until a toothpick inserted in the middle comes out clean, about 25 minutes. Cool completely, invert onto a rack, and set aside.
3. For the meringue: Heat oven to 450°. Place cream of tartar and egg whites in a large bowl; beat on medium speed of a hand mixer until soft peaks form, about 1 minute. Add sugar, and beat until stiff but not dry peaks form, about 2-5 minutes.
4. To serve, place cake on a parchment paper-lined baking sheet. Invert ice cream onto cake and peel off plastic. Cover ice cream and cake with meringue. Bake until meringue begins to brown, about 5 minutes. Using 2 metal spatulas, transfer to a cake plate and serve immediately.