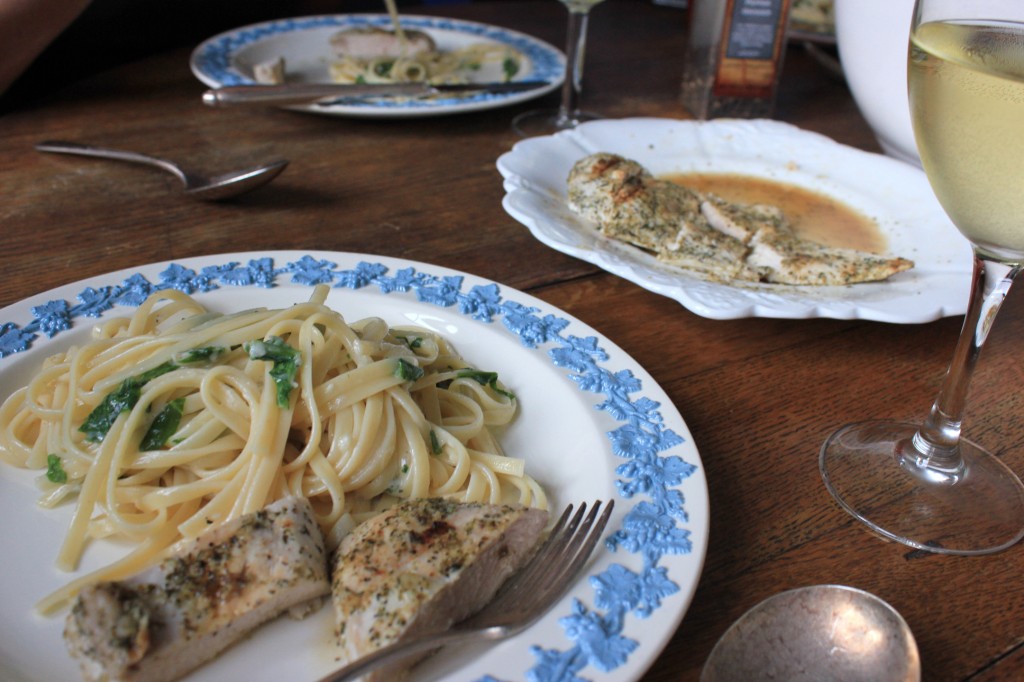 Linguine with arugula, pecorino & pepper is one of Shane's favorite dishes. Since his surgery is tomorrow, and he can't eat after midnight tonight, it seemed like a good thing to make. Surprisingly, Rose loved the pasta even though it was peppery and had the color green in it.
In addition, we had the same chicken as last night, seasoned with Penzey's Mural of Flavor and cooked in the grilling pan. And a CSA green salad with lots of cilantro and Rita's Dressing, made by our very own Rita, who is here along with my dad to help out during and after Shane's surgery.
• Linguine with Arugula, Pecorino & Pepper •
adapted from this recipe, from the Food Network
Salt
1 pound linguine
1/4 cup (1/2 stick) butter, room temperature
1 1/4 cups very finely grated Pecorino Romano
1 1/2 teaspoons freshly ground black pepper
2-3 cups coarsely chopped arugula
Bring a large pot of salted water to a boil over high heat. Add the linguine and cook until it is al dente, stirring frequently, about 8 minutes. Drain, reserving 1 cup of the cooking liquid.
Immediately toss the hot pasta in a large bowl with the butter to coat. While tossing the linguine, gradually sprinkle the cheese, pepper, and enough of the reserved cooking liquid evenly over the linguine to moisten. Add the arugula and toss to combine. Season the pasta, to taste, with salt. Divide the pasta among 6 plates and serve.