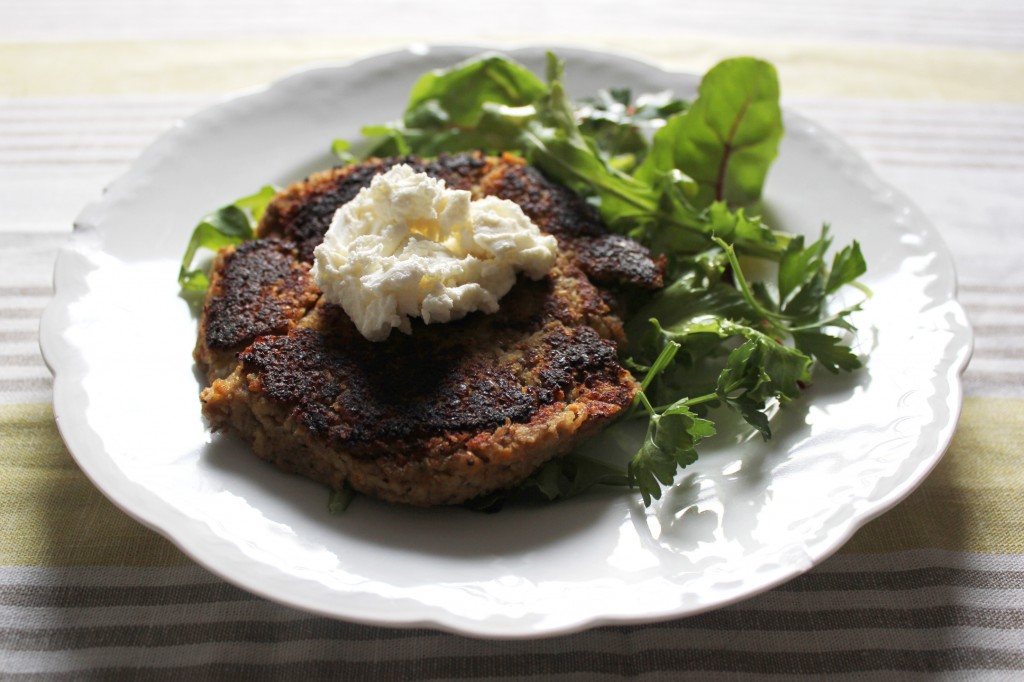 Firstly, we are so glad that our friends and family in Boston are safe and well, and we are so deeply sad for those who are not.
I spent dinner gazing at my girl, relishing her, listening to her stories and observations while she labored over her meal. I didn't force her to try the lentil burger. I made her a Murray's Mini Turkey Slider. She said "Thanks mom, but I really prefer it with Brioche."
You may recall that my last attempt at Teresa's lentil burgers, was a huge failure. This time they were really great, make-again great. The original recipe from Teresa Cooks is here, my slightly more foolproof, slightly less low-fat, version is below.
Call your parents, kiss your partner, snuggle your kid(s), goodnight.
• Lentil Goat Cheese Burgers •
from Teresa Cooks
1 1/2 cups water
3/4 cup dried lentils (do not substitute canned for dry)
1 bay leaf
2 tablespoons olive oil
1 cup finely chopped onion
2 cloves of garlic, minced
1 large carrot, grated
1 tablespoon balsamic vinegar
1 teaspoon kosher salt
salt and pepper to taste
2 ounces goat cheese, plus more for topping
1/2 cup panko breadcrumbs
1/2 teaspoon Italian seasoning blend or Penzey's Pasta Sprinkle
1 egg
Place lentils, water, and bay leaf in a small saucepan and bring to a boil. Reduce heat, cover, and simmer for 30 minutes, until lentils are tender. Remove bay leaf. If all of the water has not been removed, drain the lentils. Set aside and let them cool.
Meanwhile, heat the olive oil in a skillet over medium heat. Sauté the onions the onions, garlic, and carrot for 5-8 minutes, until softened. Season with salt and pepper. Add the balsamic vinegar, increase heat to let it reduce, and then set aside until lentils are done.
Add the lentils to the sauteed vegetables with the salt, taste and season further with salt and pepper, to taste. Combine the lentils, sauteed vegetables, and remaining ingredients in a food processor, and pulse a just few times to combine. Do not over-process, you want the mixture to remain somewhat chunky, not smooth and paste-like. Transfer to a bowl and refrigerate for at least 45 minutes, or overnight.
Lightly oil a skillet and heat over a medium-high flame. Divide the lentil mixture into 4 to 6 equal portions, and shape each portion into a patty. Place the patties on the skillet and cook for 10-12 minutes, flipping halfway through. Reduce flame if they start to get too dark.
Serve with goat cheese or herb mayonnaise, and a green salad.