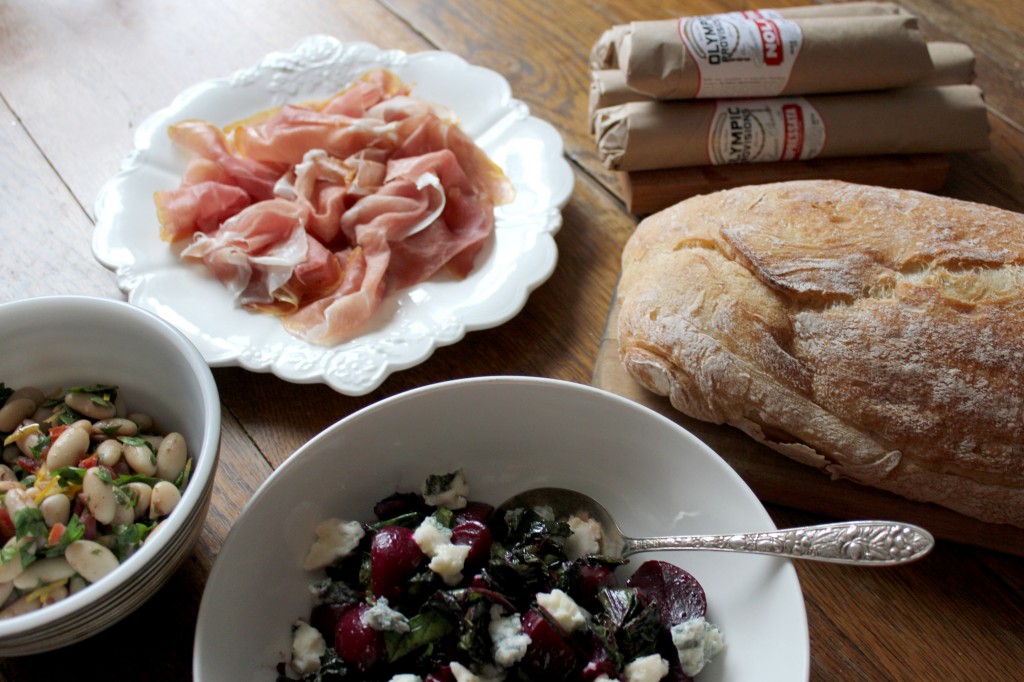 Shane received another meat-based recovery food gift today. A selection of salamis from Olympic Provisions, sent by dear friends in San Francisco. It's good to have friends in meaty places.
With our salami selection, we had prosciutto, ciabatta, and two salads. I made the yummy Beets & Beet Greens with Gorgonzola (below), that I'd been looking forward to since we received beets in our CSA box last Thursday. It's a great way to use up the whole beet bushel.
We also had an on-the-fly white bean salad. Cannellini beans, the leftover olive and tomato salsa that my sister made, a lot of slivered lemon peel, lemon juice, olive oil and parsley. It was darn good.
On the medical front, Shane reduced his pain meds today, which means he's feeling ever so slightly less pained. He's still quite disabled, but I think things are starting look up for him.
• Beet & Beet Green Salad with Gorgonzola •
1 bunch beets & their greens
1 red or sweet onion
2 tablespoons olive oil
1 teaspoon balsamic vinegar
salt & pepper to taste
1/2 cup crumbled gorgonzola (or however much you like)
Heat oven to 350. Wash and trim the beet roots, wrap each beet in tin foil with a dribble of olive oil and salt, roast until soft when poked with a knife (time will depend on size of beets). When the beets are cooked, remove them from the oven to cool. Once cool, peel the beets and chop them into cubes, approximately 1″ square, set aside. Chop the onion and saute in 2 tablespoons olive oil, over low to medium heat until soft and translucent. Wash & remove the stems from the beet greens and chop into 1 or 2″ strips. Add greens to the onions and cook until greens are nicely wilted. Add balsamic vinegar, salt and pepper to taste and remove from heat. Add beet root to beet greens and onions. Stir to combine and serve topped with gorgonzola cheese.