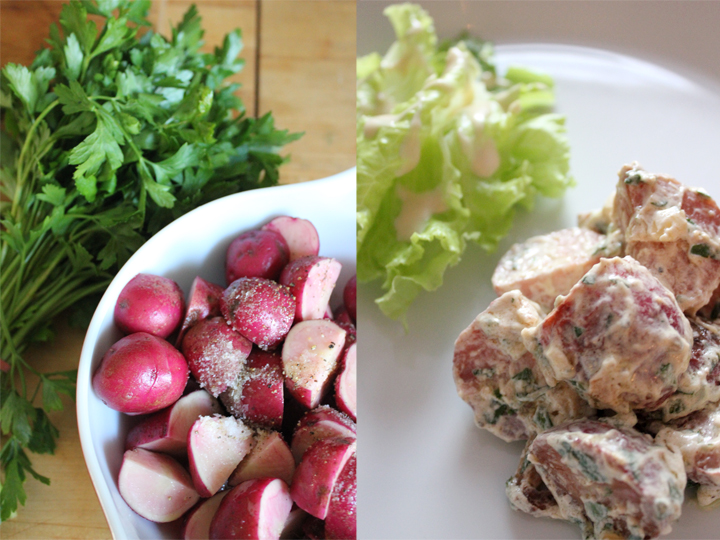 I am very excited about this new potato salad dish! It's sort of potato salad, sort of potato side, because you roast the potatoes before assembling the dish and then serve warm or at room temperature.
With the potatoes, we had a green salad with an unthinkably terrible dressing, that I wont tell you more about. And steak. I am getting quite good at making steak, can you believe it? Tonight's was a very loose interpretation of this recipe.
The potato recipe is from Saveur, and can be found here. It's also below.
Of course I did a couple of things differently with the potatoes. Firstly, I used new potatoes instead of yukon gold. I didn't use shallots, because we've been getting all kinds of curious and interesting onions in our CSA box lately. Because I prefer my onions soft, and perhaps slightly golden, but not brown, I didn't quite brown the onions I used—which were like scallions with a baby onion at the bottom. For the garlic, I added a smashed bulb for flavor, and then removed it before mixing the onions into the sauce.
• Roasted Potato Salad with Sour Cream & Shallots •
from Saveur.com
2 lbs Yukon Gold potatoes, scrubbed and cut into ¾-inch chunks
3 tbsp. olive oil, divided
1½ teaspoons kosher salt, divided
freshly ground pepper
2 medium shallots, thinly sliced (about ¼ cup)
2 cloves garlic, roughly chopped
⅓ cup sour cream
1 tsp. Dijon mustard
1 tsp. red wine vinegar
2 tbsp. chopped fresh flat-leaf parsley 
Preheat the oven to 400°. Toss together potatoes, 2 tbsp. oil, 1 tsp. salt, and pepper to taste in a large bowl. Spread on a rimmed baking sheet in a single layer and roast, stirring once halfway through, until browned and cooked through, 25-30 minutes. Remove from oven and let cool slightly.  
While potatoes are roasting, heat remaining 1 tablespoon of oil in a pan set over medium heat. Add shallots, season with remaining ½ teaspoon salt and let cook, stirring occasionally, until softened and brown, 5-7 minutes. Add garlic and stir until just softened, 1-2 minutes. Remove from heat.  
In a large bowl stir together the sour cream, mustard, and vinegar. Add the cooked potatoes, shallots, and garlic and gently toss to coat.  Add additional salt and pepper to taste and stir in parsley just before serving. Serve warm or room temperature.