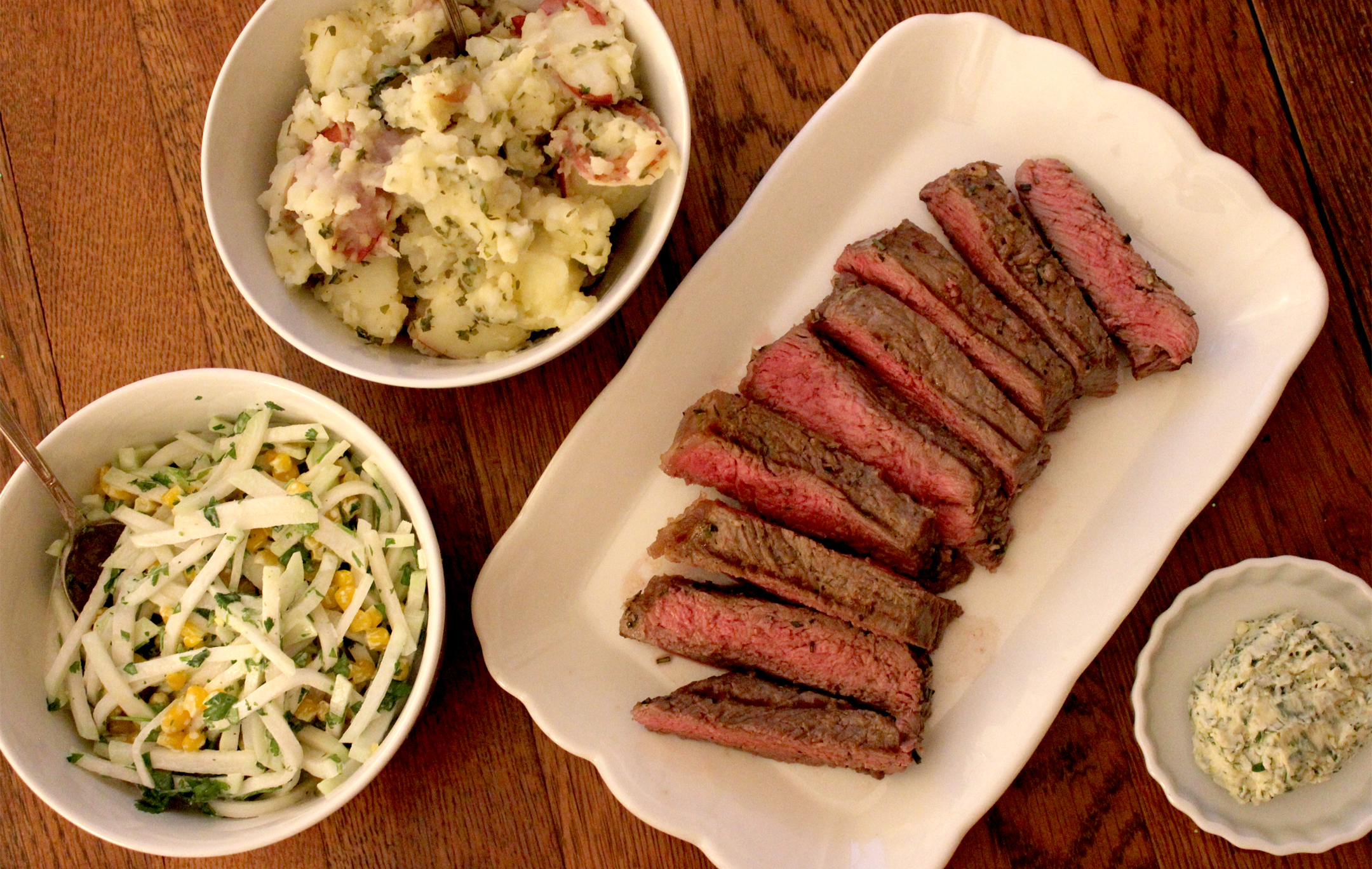 I usually leave the steak-making to Shane, but he's been coming home late, after physical therapy 3x a week, so I decided to tackle it myself. We had a nice, local, humanely raised, shell steak in the fridge which Shane requested I marinate.
The Weber Grill site had a good-sounding recipe for Rosemary-Marinated Rib Eye. I figured the Weber folks should know their steak, and went with it.
While the steak marinated I made kohlrabi slaw with roasted corn, lime juice, mayo and cilantro. The steak recipe calls for a lemon-pepper butter which sounded so good that I decided to put it on the potatoes. After doing so it occurred to me that  this might make the meal altogether way too citrusy & herby.
In the end we left the butter off the steak. Shane and Rose agreed it was a great steak, and I was happy to be able to enjoy the lemon butter on my potatoes.
• Kohlrabi Slaw •
3 kohlrabi bulbs peeled and cut into matchsticks
1/4 cup mayonnaise
the juice of 1 lime
a big handful of fresh cilantro leaves, chopped
1/4 teaspoon ground cumin
1 cup corn kernels
olive oil
salt to taste
Heat olive oil in a cast iron skillet and add the corn kernels with a pinch or two of salt. Cook over medium heat, stirring frequently, until the kernels are slightly brown and shriveled. Remove from pan and set aside to cool.
Peel kohlrabi bulbs and cut into matchsticks. Combine kohlrabi, mayo, lime juice, cilantro, cumin and corn and stir to combine. Season with salt, and refrigerate until ready to eat.
• Rosemary-Marinated Rib-Eye Steak with Lemon-Pepper Butter •
For the Marinade
½ cup extra-virgin olive oil
3 tablespoons roughly chopped fresh rosemary leaves
2 cloves garlic, minced
2 teaspoons dijon mustard
¼ teaspoon coarsely ground black pepper
½ teaspoon kosher salt
For the Butter (optional)
½ cup (1 stick) unsalted butter, softened
1 tablespoon finely grated lemon zest
4 teaspoons fresh lemon juice
¾ teaspoon coarsely ground black pepper
1 tablespoon chopped fresh Italian parsley leaves
½ teaspoon salt, more to taste
2 shell steaks, each 16 to 18 ounces, and about 1.5 inch thick, trimmed of excess fat.
In a medium bowl whisk the marinade ingredients. Place the steaks in a glass pie plate or similar shallow dish. Poke steaks on both sides with a fork and smear marinade onto both sides. Cover steaks with the rest of the marinade and let sit at room temperature for up to 3 hours. Alternatively, you can refrigerate for longer.
In a small bowl blend the butter ingredients. Scrape the butter up into a patty shape and refrigerate or freeze until hard.
If you refrigerated your steaks, bring them to room temperature before cooking. Heat a grilling pan over high heat and grease lightly with oil. When pan is hot, scrape off most of the marinade and add the steaks. Cook for 5 minutes per side for medium rare. 
Top steak with butter patty (if using butter), let rest, covered with foil, for 5 minutes, then slice and serve.