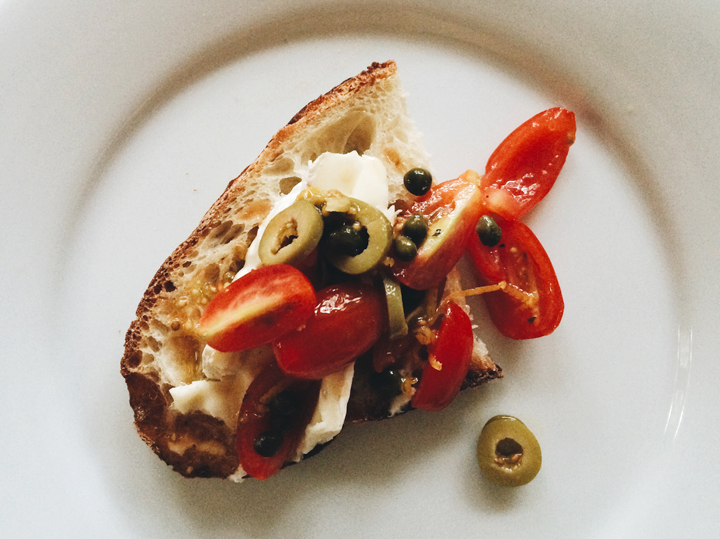 This is a great meal for a busy weeknight when you're feeding a family that's 1/3 vegetarian & 2/3 omnivore.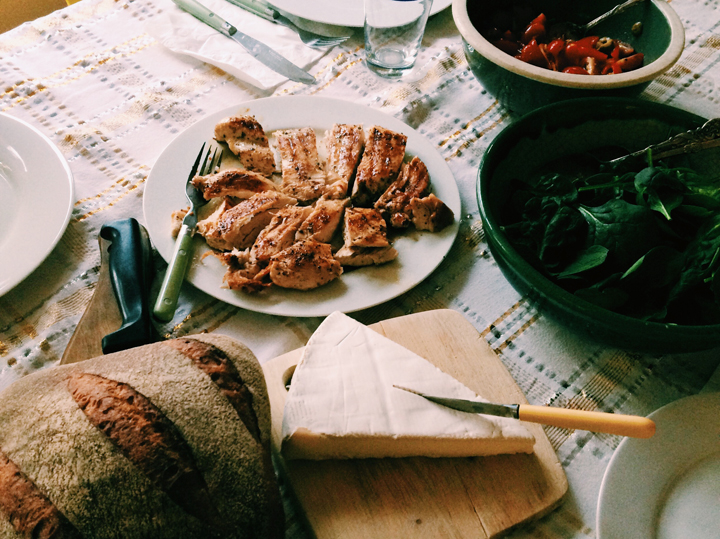 The meal is very quick and easy. All you need are these ingredients: chicken breasts, some spices, salt & pepper, olive oil, some nice grape or campari tomatoes (or pre-made bruschetta topping), boxed greens, maybe some random stuff from your fridge, your favorite dressing or oil and vinegar, crusty bread, brie (at room temperature) and/or other soft cheese(s).
Start with a simple grilled chicken, which I like to call weekday grilled chicken. The first thing you do when you get into the kitchen is to flatten the boneless, skinless breasts with a mallet so they are more or less a consistent thickness. (This step is optional but will keep your cooking time down and make it so that the chicken pieces are ready at more or less the same time)
Then, season the chicken with some spice mix, I like Camp Mix , or lemon pepper, or just whatever sounds good plus lots of salt and pepper and some olive oil, and let it hang out until you're ready to cook it.
Next, make your veggie dishes. My mom happened to be home tonight because she fainted at work, so she made an amazing tomato topping for our crusty bread, with grape tomatoes, olives, capers and lemon zest.
To keep things easy, you could buy some pre-made bruschetta topping. Otherwise, just bung a few tasty ingredients in a bowl with  chopped tomatoes (ie: Capers, fresh herbs, olives, garlic, citrus zest, scallions—whatever you've got in the fridge—you can experiment a bit) then add a splash of vinegar or lemon juice, salt, pepper and a few glugs of olive oil.
Make a really simple green salad, because all of the vegetable fanciness is going to be in the tomato mix. By simple, I mean boxed greens with oil and vinegar, that simple.
Once all that's done, lightly oil and heat up your cast iron grilling pan. Start setting the table while the grilling pan gets hot. When it's hot put the chicken in the pan.
Finish setting the table, put your crusty bread out with your nice cheese(s), salad, tomato topping and drinks. Flip the chicken so it gets nice and grilled on both sides. When it's cooked through (about 10 minutes for a piece that's been pounded to about 1/2″ thickness), remove from pan and slice it up.
Voila! A great meal quick that makes both vegetarians and meat eaters happy.