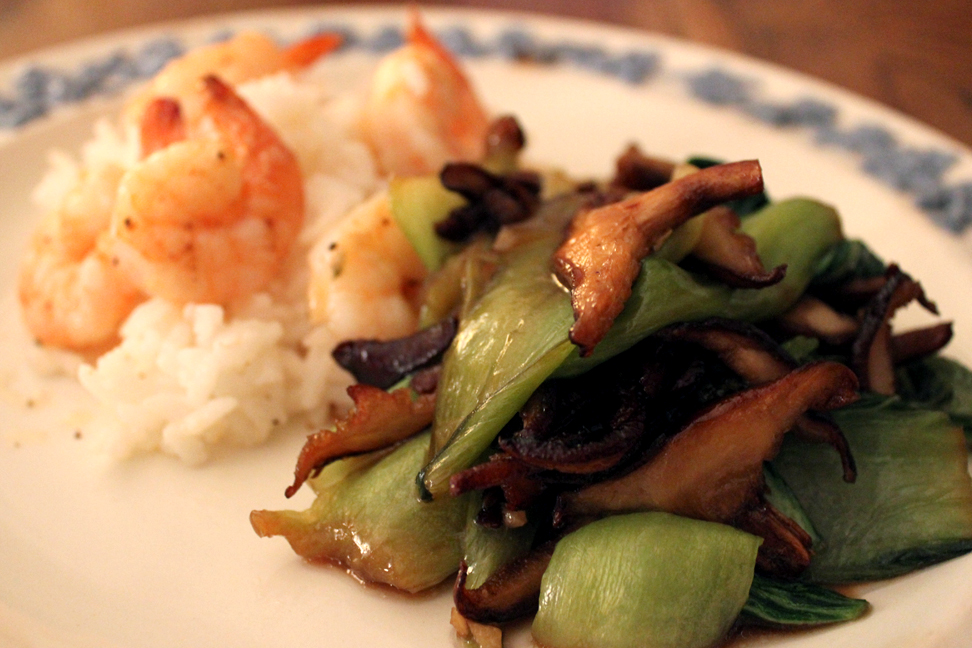 If, like me, you have a surplus of CSA bok choy taking up valuable space in your fridge, and in your mind, look no further than this recipe from Mark Bittman.
I will never again lament the presence of this lovely green in my CSA box. In fact, I might go so far as to purchase bok choy in the off-season.
We had Boy Choy with Shiitakes and Oyster Sauce, with simple broiled shrimp—loosely based on this recipe—and plain old white rice. The bok choy dish is pretty salty and very flavorful. I used minimal seasoning on the shrimp, and could have used even less.
This would also work well with a simple chicken or pan-fried tofu, instead of shrimp.
• Boy Choy with Shiitakes and Oyster Sauce •
from Mark Bittman

Notes: I couldn't find dried shiitakes today, so I doubled the quantity of fresh. I also didn't know exactly what was meant by "commercial oyster sauce." Does it mean store bought (not homemade)? Or does it mean an industrial brand like what I imagine is used in restaurants? I don't know. I just used the kind they sell at my grocery store. Lastly, the oyster sauce is a bitch to get out of the bottle, I recommend decanting to a measuring cup before you start cooking.
1/4 cup dried shiitake mushrooms
1 1/2 pounds bok choy, trimmed
1/4 cup peanut oil
1 tablespoon minced garlic (optional)
1 cup fresh shiitake mushrooms, cleaned, trimmed and sliced (double, or more than double this if you aren't using dried shiitake)
1/2 to 3/4 cup commercial oyster sauce (or whatever they have at your local store)*
1. Soak dried shiitakes in one cup of very hot water until tender, about 15 minutes. Drain, reserving liquid. Trim mushrooms and chop. Separate leaves and stems of bok choy; cut stems into 2-inch lengths and slice leaves into ribbons. You can also leave the leaves whole, particularly if using baby bok choy.
2. Heat 2 tablespoons oil in a wok or large skillet over high heat. When oil is hot, add bok choy stems, garlic if you are using it, reconstituted mushrooms, and about 1/4 cup reserved mushroom water. Cook, stirring frequently, until stems are crisp-tender, about 4 minutes.
3. Meanwhile, in a small skillet heat remaining 2 tablespoons oil; sauté fresh shiitake mushrooms over medium-high heat. Continue cooking until they begin to brown and crisp on edges.
4. Into the large skillet or wok, add bok choy leaves and oyster sauce and toss vegetables gently to combine; continue cooking until greens wilt, about 2 more minutes. Serve immediately, topped with crisp mushrooms.
*The oyster sauce is very salty, you may want to start with 1/3 cup and taste, adding more if necessary.