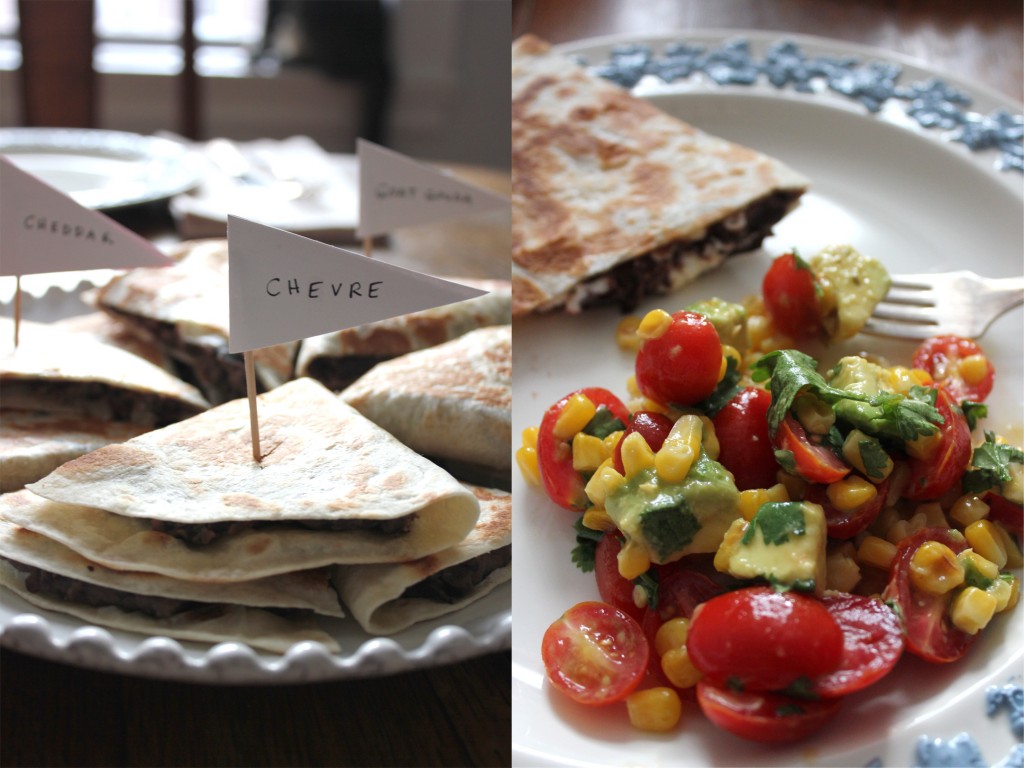 If you've ever read this blog before, you already know about the oldie, Black Bean & Goat Cheese Quesadillas. The only thing I'll say about them tonight, is that it seems like you can't go wrong by experimenting with the cheese.
I've made these with goat cheese, cheddar, regular mozzarella & fresh mozzarella before. All good. This time, I decided to use up some of those little end bits that are ubiquitous in our cheese drawer. The new flavor was goat gouda, I labeled the different flavors with little ID flags.
The new dish tonight was an extremely yummy salad. Roasted corn, tomatoes, lime juice, cilantro, avocado. So delicious and refreshing and perfect for this first hot and muggy day of the year. I can't wait to have it again tomorrow, and all summer long.
• Roasted Corn, Tomato & Avocado Salad •
3 tablespoons olive oil
16 oz package frozen corn*
1 teaspoon Kosher salt
1 pint grape tomatoes, halved
1 ripe avocado, peeled and cut into chunks
1 cup fresh cilantro leaves, coarsely chopped (use more or less to taste)
the juice of one to two limes (depending size and on how lime-fiendish you are)
salt and red pepper flakes (optional) to taste
Heat your broiler. Put frozen corn (no need to thaw) on a large, rimmed baking tray, drizzle with the olive oil and salt and stir to coat evenly. Broil, checking frequently, for about 10 minutes until the some of the kernels are browned and roasty looking. Don't overcook or it will be chewy.
When the corn is done, remove it from the broiler, and put it in a medium serving bowl to cool a little. When warm or cool, add the tomatoes, lime juice and cilantro and stir to combine. Taste for seasoning adding additional salt and red pepper flakes if desired. Add the avocado, toss gently and serve.
Other great additions to this dish would be roasted poblano peppers, salty, crumbly cheese, and perhaps red onion or scallion.
 *I recommend using organic sweet corn. Non-organic frozen corn looks and tastes artificial to me.