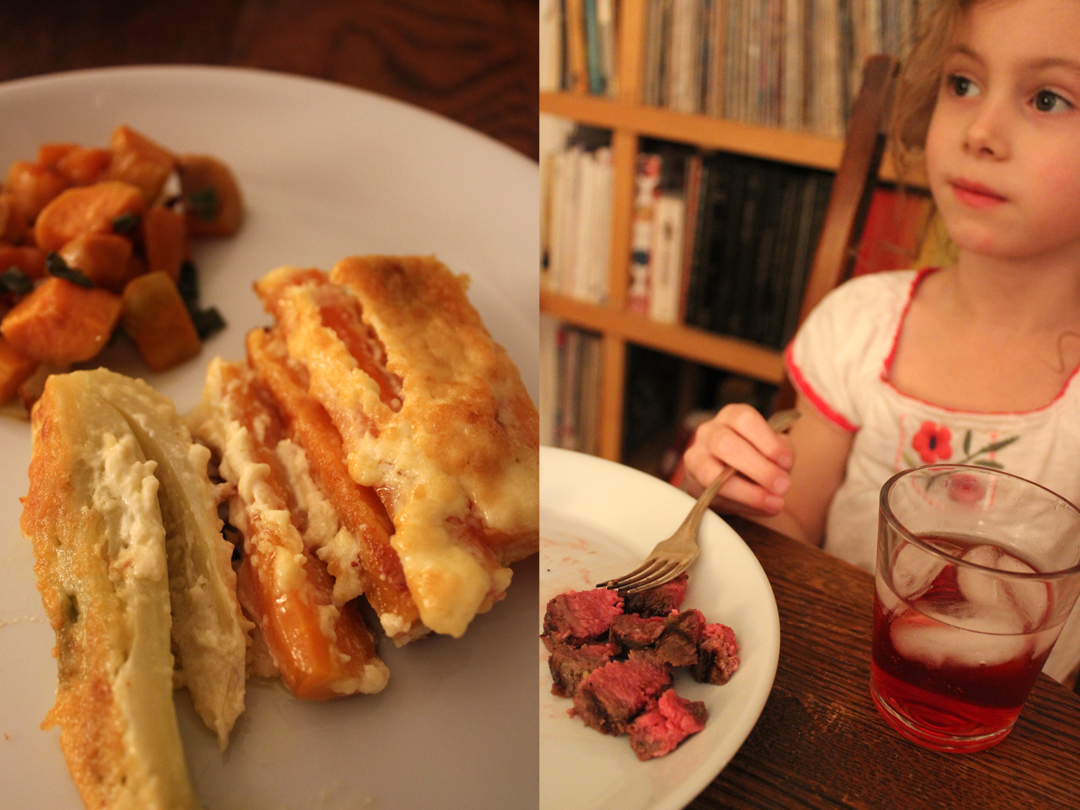 Another slight variation on one of the meals from this week's plan: Steak, roasted sweet potatoes and fennel baked in cream. The fennel stole the show, even though the fennel was also carrots.
The bulbs of fennel in my CSA box were teeny tiny. Delicious, flavorful and sweet, but nowhere close to the 1.5lbs we needed. The solution was to use carrots in place of the missing fennel.
It was wonderful, delicious, a keeper. Everyone agreed. Even Rose ate a carrot, for the first time in as long as I can remember.
• Fennel Baked in Cream •
original recipe from Saveur
10-15 minutes hands on time, 1 3/4 hours total
1 1⁄2 lbs. fennel (about 2 large bulbs), stalks removed, halved lengthwise, and cut into 1⁄2″ wedges*
2 cups heavy cream
1 1⁄2 cups finely grated Parmesan (or Pecorino) 
Kosher salt and freshly ground black pepper, to taste
4 tbsp. unsalted butter, cubed
*Note: If you don't have enough fennel, substitute carrots, peeled and halved lengthwise, for up to half the fennel. Don't totally replace the fennel though, it just wouldn't be the same.
1. Heat oven to 425°. In a bowl, toss together fennel, cream, and 1 cup Parmesan; season with salt and pepper. Transfer to a 3-qt. baking dish; dot with butter. Cover dish with foil; bake for 60 minutes.
2. Uncover baking dish; sprinkle with remaining Parmesan. Bake until fennel is tender, about 30 minutes.