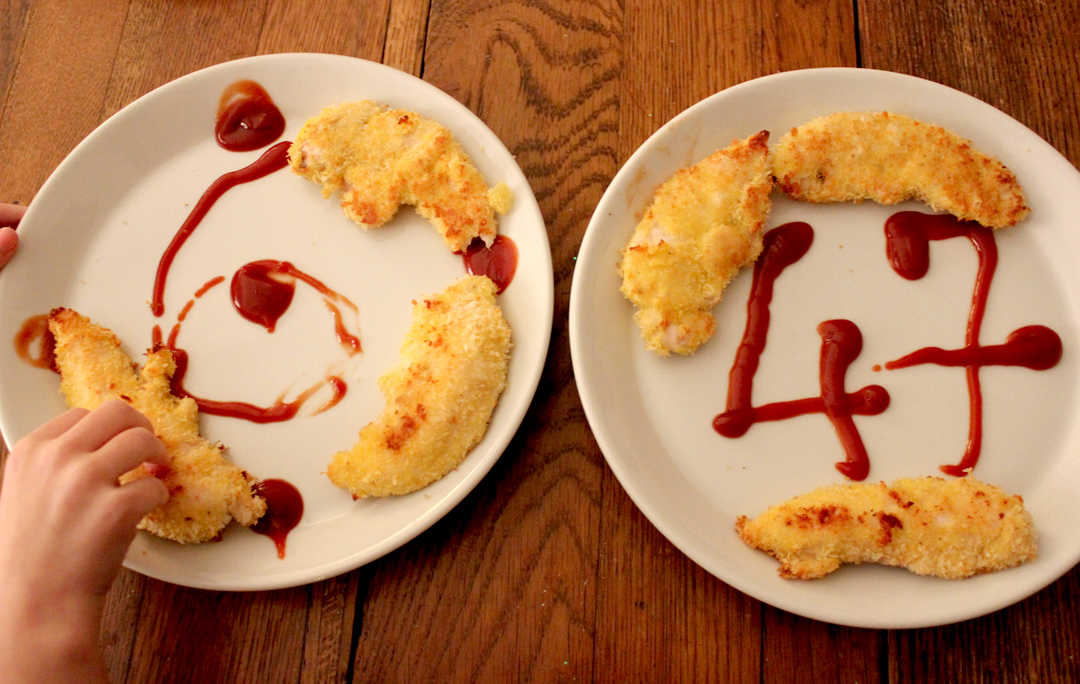 The chicken was not really aged, Rose and Shane just decided to have some fun with their ketchup, and their ages. For the record, neither of them has seen Breaking Bad, this was purely honest ketchup creativity.
It's the same Parmesan Chicken Goujon recipe that we had last week. Now that I've remembered it, and Rose has decided it's her favorite meal, I think we're going to have it a lot.
Note: People with kids, or kid-like food preferences, you should really try this recipe.
Of course it's an easy make-ahead dish as well. You can prepare the chicken all the way up to the baking part, and then just let it hang out (covered, if you have pets) until 12-18 minutes before you plan to eat dinner. Which is what we did tonight.
Fortunately, and unfortunately, Shane was home to pre-heat the oven, which is what made this meal possible.
He was home because the tightwad bastards at Cigna cut off his physical therapy coverage. This means that he's now available to do some dinner prep on our crazy-schedule nights. Delightful as that may be, I think I'd prefer for him to recover fully from his surgeries.
With our chicken—or without it, in my case—we had roasted CSA peppers and the rest of last night's kale & potatoes.