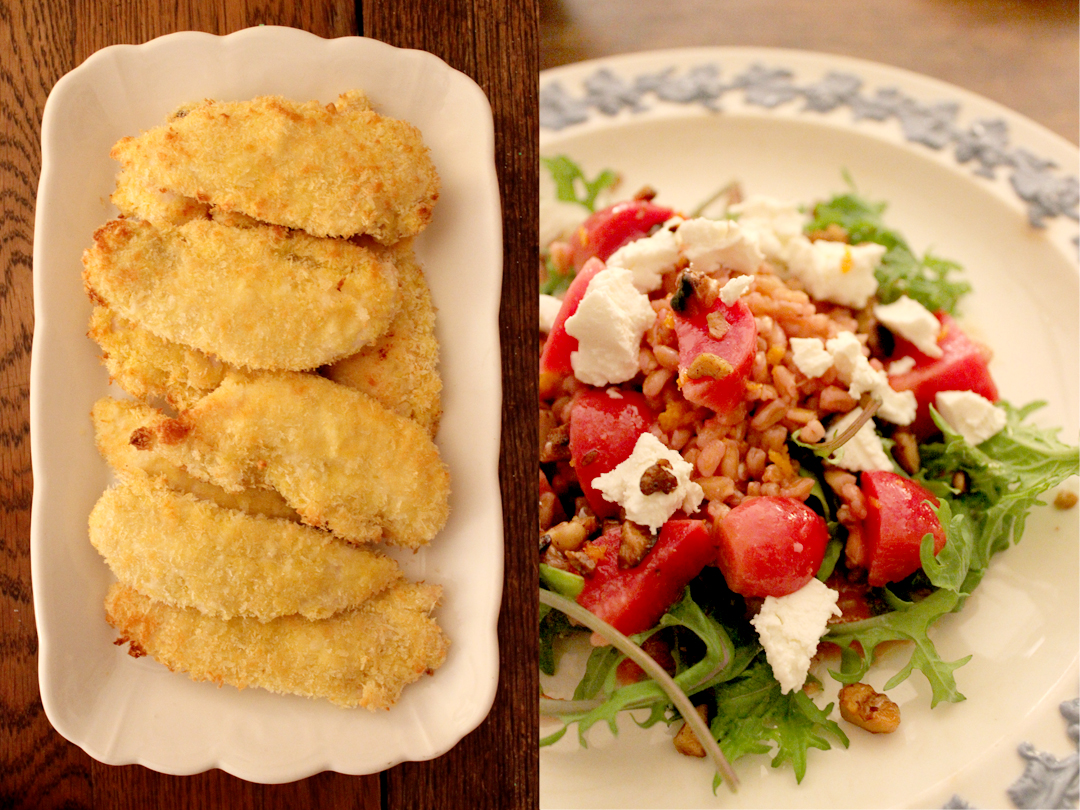 I don't know how I forgot about Parmesan Chicken Goujons. I used to make them very regularly, and then I didn't.
It's an easy recipe, can be a bit messy to prepare but there's no frying involved. It might seem like a kiddie dish, but the parmesan ages it up enough to make it universally enjoyable. Shane and Rose devour them every time.
Getting dinner on the table has been overriding my pregnant protein needs lately, so I decided to make a hearty, well-rounded salad. A salad that wouldn't make me feel like I'd neglected the internal portion of my family.
Taking advantage of my CSA veggies, I used baby beets and baby kale* in a salad topped with farro, butter-toasted walnuts, goat cheese and fresh orange dressing. Both recipes are below.
*I know I recently gave kale salad a hard time. This kale was more like salad greens, and our CSA farm specifically instructed us not to cook it. Still, the hypocrisy of this post is not wasted on me.
• Parmesan Chicken Goujons •
from Rachel's Favourite Food at Home
1 to 1.5 lbs boneless, skinless, chicken breast tenders
1/2 cup flour
salt and pepper
2 eggs beaten
2 cups bread crumbs or panko
3/4 cup finely grated parmesan or pecorino cheese
peanut, vegetable or sunflower oil for pan
Heat oven to 400 degrees, put a large baking tray in the oven to pre-heat. Combine the flour, salt and pepper in a medium bowl. In another medium bowl, beat the eggs. In a medium to large, shallow bowl, put the bread crumbs and parmesan, mix to combine.
Rinse and pat chicken tenders dry. Dip the tenders in the flour, turning to coat well and shake off excess. Then, dip in egg, let excess drip off. Dip and roll in bread crumb and cheese mixture, pressing if needed, until well coated. Place each tender on a plate as you're done coating it.
Remove baking tray from oven and coat with oil. Place tenders, with a little bit of space between each, on the tray. Bake for 12-18 minutes, until cooked through, flipping after 6 minutes. Serve with ketchup, or another condiment, if desired.
• Baby Kale & Beet Salad with Farro, Goat Cheese, Walnuts and Orange Dressing •
1 bunch baby beets, boiled or roasted and peeled (or use pre-cooked, peeled beets)
juice and zest of one orange
2 tablespoons seasoned rice vinegar
1/2 teaspoon dijon mustard
1/4 cup olive oil
1/4 cup farro
1 small bunch baby kale (or other baby green), washed 
1 teaspoon butter
salt
1/4 cup chopped walnuts
2 oz chevre
Boil or roast beets until tender, set aside to cool. When cool, slip them from their peels and cut into bite-size pieces. Meanwhile, make the dressing. Combine orange juice, zest, mustard and vinegar in a small bowl, whisk in oil until emulsified.
Cook farro in salted water until tender (or per package instructions), drain, rinse under cold water and drain well. Combine beets, farro and dressing in a medium bowl and set aside.
In a small skillet melt the butter, add the chopped walnuts and a pinch of salt and cook until toasted and fragrant. Watch carefully to make sure they don't burn. Remove to a dish and set aside.
To assemble, put baby greens in a salad bowl, top with beet, farro and dressing mixture, dot with crumbled chevre and sprinkle with toasted walnuts. Toss and serve immediately.