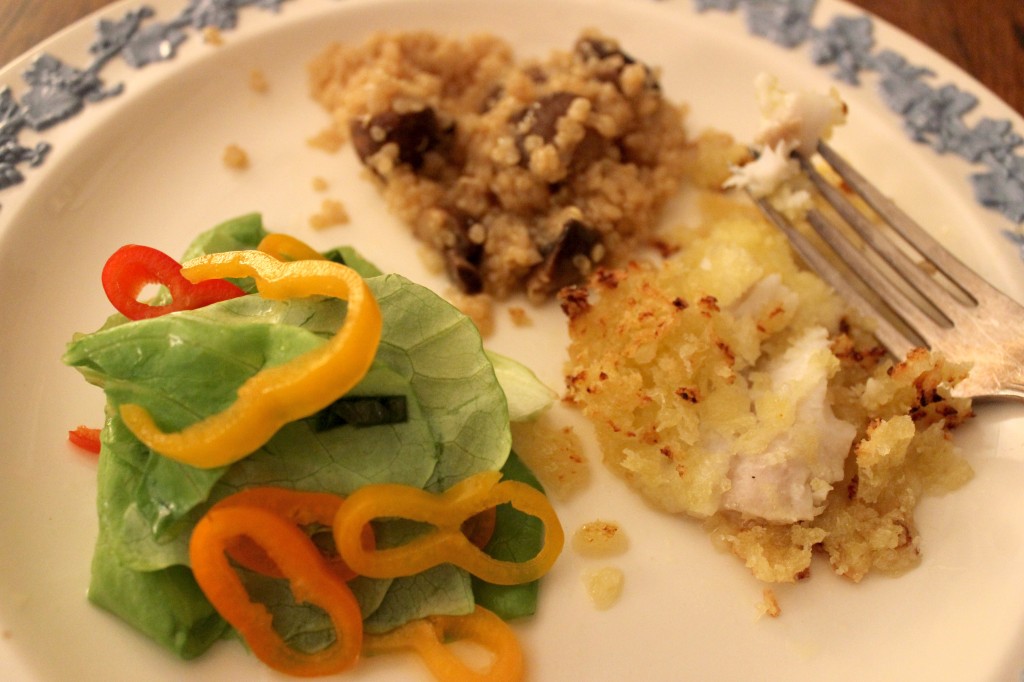 The last few winters have been so mild that I forgot what it was like to have the February blues. It's awful.
This mood, this time of year, reminds me of when I first met my husband, Shane. It was February then, too. I was hanging out with Shane and a friend, and the friend said: "We were so depressed today, that we actually ate at Burger King." I've been pretty depressed before, but I have never set foot in a Burger King. Shane and friend were in a seriously bad way.
I'm not about to head out to Burger King, or anything drastic, but I am getting awfully jealous of my friends who are posting Floridian vacation photos on Facebook. I found myself reading old blog posts from July and August this afternoon, and decided to make a dish from one of the most delicious, summeriest, beachy-haired, salt-licked, sun-kissed, succulent, evenings of summer: fish (Flounder, tonight) cooked the Adriatic Way.
With it we had an equally summery salad of Boston lettuce with cubanelle peppers, fresh basil leaves, and Rita's Dressing. The quinoa, though quite tasty (recipe below), wasn't very summery, I guess I just couldn't keep up the facade. One of Shane's margaritas might have helped.
• Quinoa with Mushrooms & Sage •
1 tablespoon olive oil
1 small yellow onion, chopped
3/4 cup quinoa, I like the organic kind that comes pre-washed
1 1/2 cups hot water
1 teaspoon vegetable Better Than Bouillon
2 tablespoons butter
1 package crimini mushrooms, trimmed and quartered
10 fresh sage leaves, finely slivered
salt and pepper to taste
Heat olive oil in a small (2qt) saucepan over medium heat, add onion and cook until soft and translucent. Meanwhile, melt the butter in a small skillet over medium-low heat, add the mushrooms and sage and cook until done, about 10 minutes, set aside. When the onions are done, add the quinoa, stir to coat with oil and then add the water and Better Than Bouillon and stir. Simmer until the quinoa is translucent and cooked through, about 15-20 minutes, add more water if necessary. Add mushrooms and sage with any pan juices, to quinoa, stir to combine, taste for seasoning, and serve.