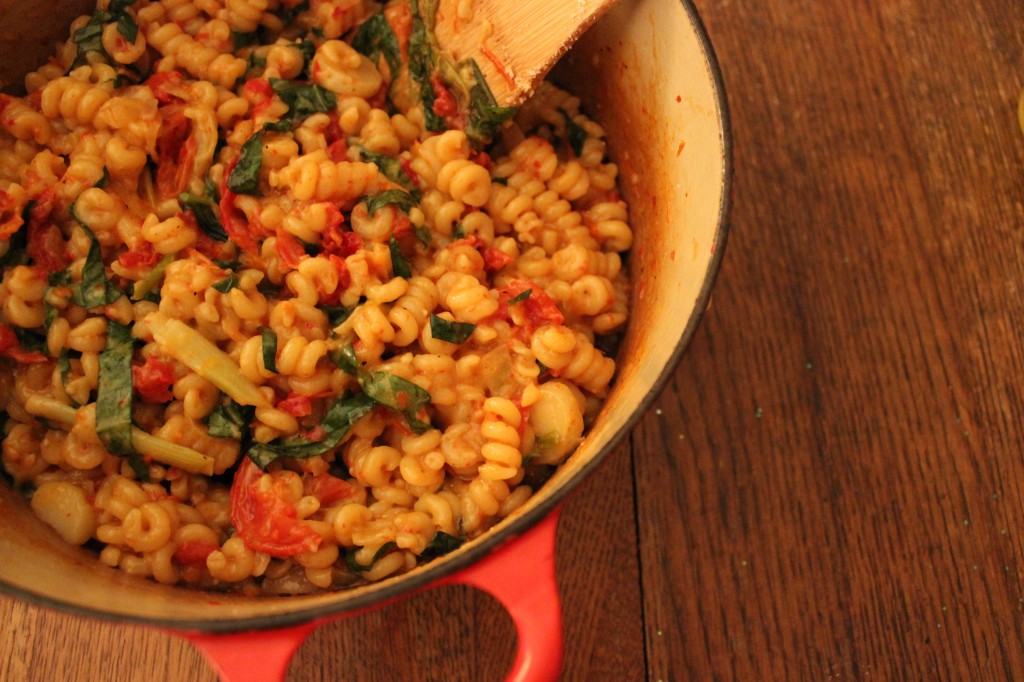 I'm going to do you a huge favor tonight and introduce you to Alain Ducasse's Olive Mill Pasta  (or re-introduce you, if you read  this post last fall).
What makes this dish so special that you'll want to thank me? Well, you cook the pasta like risotto. Instead of boiling it, you mix the dry pasta in with butter and oil that you've cooked an onion and some potatoes in, and then simmer it broth with other yummy ingredients. The pasta comes out perfectly al dente, saturated with flavor, and coated with an almost creamy, flavorful sauce.
The dish is relatively quick to make at 45 minutes start to finish, making it doable on a weeknight. It can pass as a one-dish meal, depending on what your veggie requirements are. And it's vegetarian, if you make it like I did with vegetable Better Than Bouillon, or with vegetable broth (I recommend the former for taste and convenience).
The recipe calls for  strozzapreti pasta. I find that you can use any curly-ish or shaped (ie: not long like spaghetti) pasta as long as it has that extra-matte texture you find in artisanal pastas. Here's an image, for reference.
Fingerling potatoes work great, but you can also use those really small yellow potatoes. The potatoes I used tonight were about 1″ in diameter. For the tomatoes, I always use sun dried.
Taste it as you're adding broth towards the end to make sure that the pasta does't get overcooked. Add enough broth so it's not too dry nor soupy. That's all you need to know.