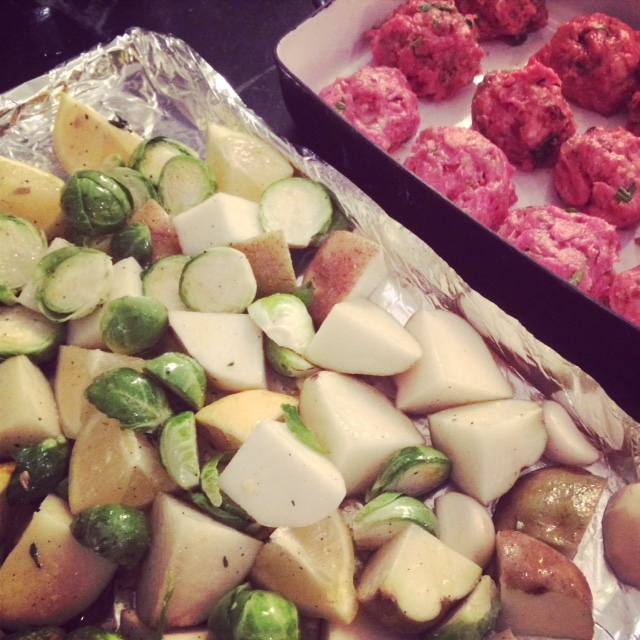 It's been over 6 months and I still don't really feel settled into our new home/city/life yet. I still miss New York. I miss it a lot. Like in a totally heartbroken, feel like I'm in mourning most of the time, kind of  a way.
I know that sounds a bit dramatic, but hey, it's how I feel. Except on Fridays.
Fridays feel normal, probably because they're most like my old life. On Fridays I work from home, and then I pick up Rose from school, I chat with a mom or two at pickup, hang with my kids and… I cook dinner! (Usually)
On this particular Friday my mom and I cooked together. She made Baked Chicken Meatballs from Smitten Kitchen. I made Lemony Roasted Brussels Sprouts with Turnips, Potatoes and Horseradish Creme Fraiche from Dash & Bella.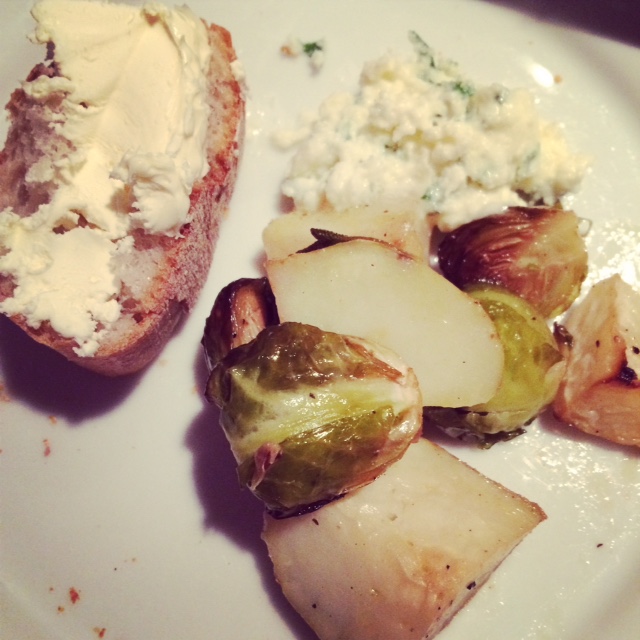 The highlight of the meal was the roasted brussels etc. from Dash & Bella. First of all, it's totally my kind of recipe, no quantities or proportions, just a general guideline, a cooks-cook kind of a recipe.
Throwing big chunks of lemon and all of those fresh herbs in with the vegetables, really makes the dish. And the combination of different textures—turnip, brussels sprouts, potato—keeps things interesting.
We had a bit of trouble with the horseradish creme fraiche, I added too much horseradish and it caused it to separate, like when you're halfway to making butter. Next time I'll just add a small amount of horseradish. And I promise you, next time will be soon.
The chicken meatballs were well-received as well, but couldn't hold a candle to the veggies.
Happy Weekend. xo
• Lemony Roasted Brussels Sprouts with Turnips, Potatoes and Horseradish Creme Fraiche •
from Dash & Bella
Preheat your oven to 425 °F.
Use a large sheet pan or baking dish so that everything has room to get nice and crispy. We had a lot of veggies, so I used two pans.
For veggies we used: a few peeled garlic cloves, sage, rosemary, thyme, a big pile of halved Brussels sprouts (funky outer leaves removed), quartered Yukon gold potatoes, peeled and chopped (about 1.5″ pieces) turnips, and 2 quartered lemons. Make sure potatoes and turnips are cut to about the same size.
Put all your veggies into a bowl, and then be really generous with the salt, pepper, and olive oil; use your hands to make sure everything is well coated.
Pour everything out onto a sheet pan or two, and pop in the oven. Keep checking and tossing the vegetables around so that they cook evenly.
Bake until the vegetables are just cooked through and golden brown, the potatoes will take the longest.
It's even okay to let things burn a bit. 
Serve with Horseradish Crème Fraîche (freshly grated horseradish and chopped parsley mixed into crème fraîche). Be careful not to add too much horseradish, you want to keep it creamy and relatively mild.