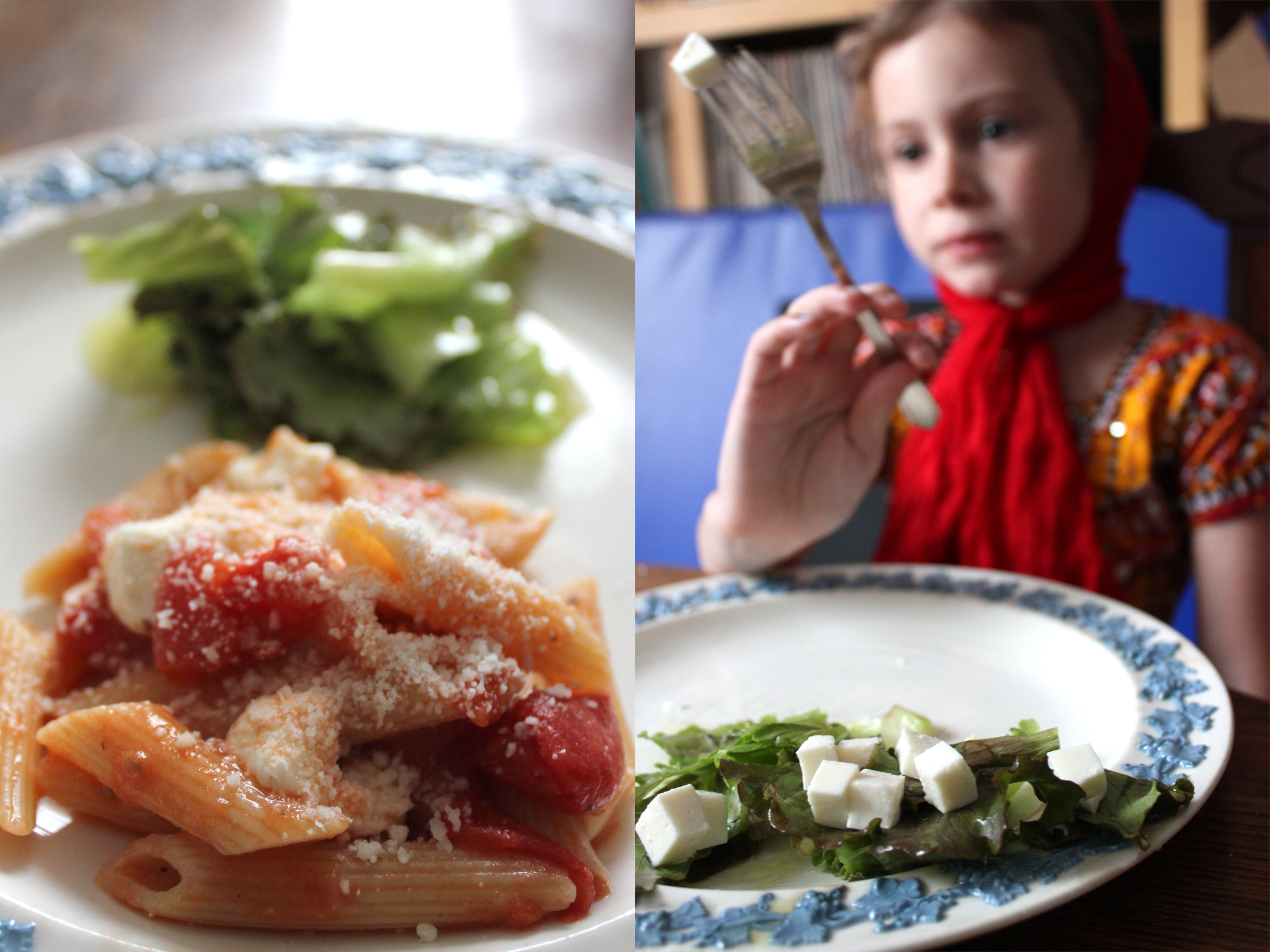 Thursdays are a bit tricky around here because of CSA pickup, which messes with our dinner timing. Since I'm back to working from home, I did a little bit of advance planning and made Marcella Hazan's famous tomato sauce during the afternoon. It's a delicious sauce and couldn't be easier to make, but it does take 45 minutes (mostly hands-off) to cook.
When we got home from Farm Spot, I made some penne and tossed it with the tomato sauce and little cubes of fresh mozzarella. With a simple salad, it was perfect for a quick, weeknight meal. Rose chose to have only salad and cheese, which I thought was a very mature choice. Perhaps it has something to do with today's outfit.
• Marcella Hazan's Famous Tomato Sauce •
from Marcella Hazan via Smitten Kitchen
A 28oz can whole peeled San Marzano tomatoes, I like this brand
5 tablespoons unsalted butter
1 medium yellow onion, peeled and halved
Salt to taste (pepper too, if you like)
Put the tomatoes, onion and butter in a heavy saucepan over medium heat. You don't need to cut the butter into pieces, just cut 5 tablespoons of butter off of a stick and bung it in the pot. Bring the sauce to a simmer then lower the heat to keep the sauce at a slow, steady simmer for about 45 minutes. Stir occasionally, crushing the tomatoes against the side of the pot with a wooden spoon. Remove from heat, discard the onion, add salt to taste. That's it! 
If you want, you can toss with about a cup of little cubes of fresh mozzarella and top with some grated pecorino or parmesan too.