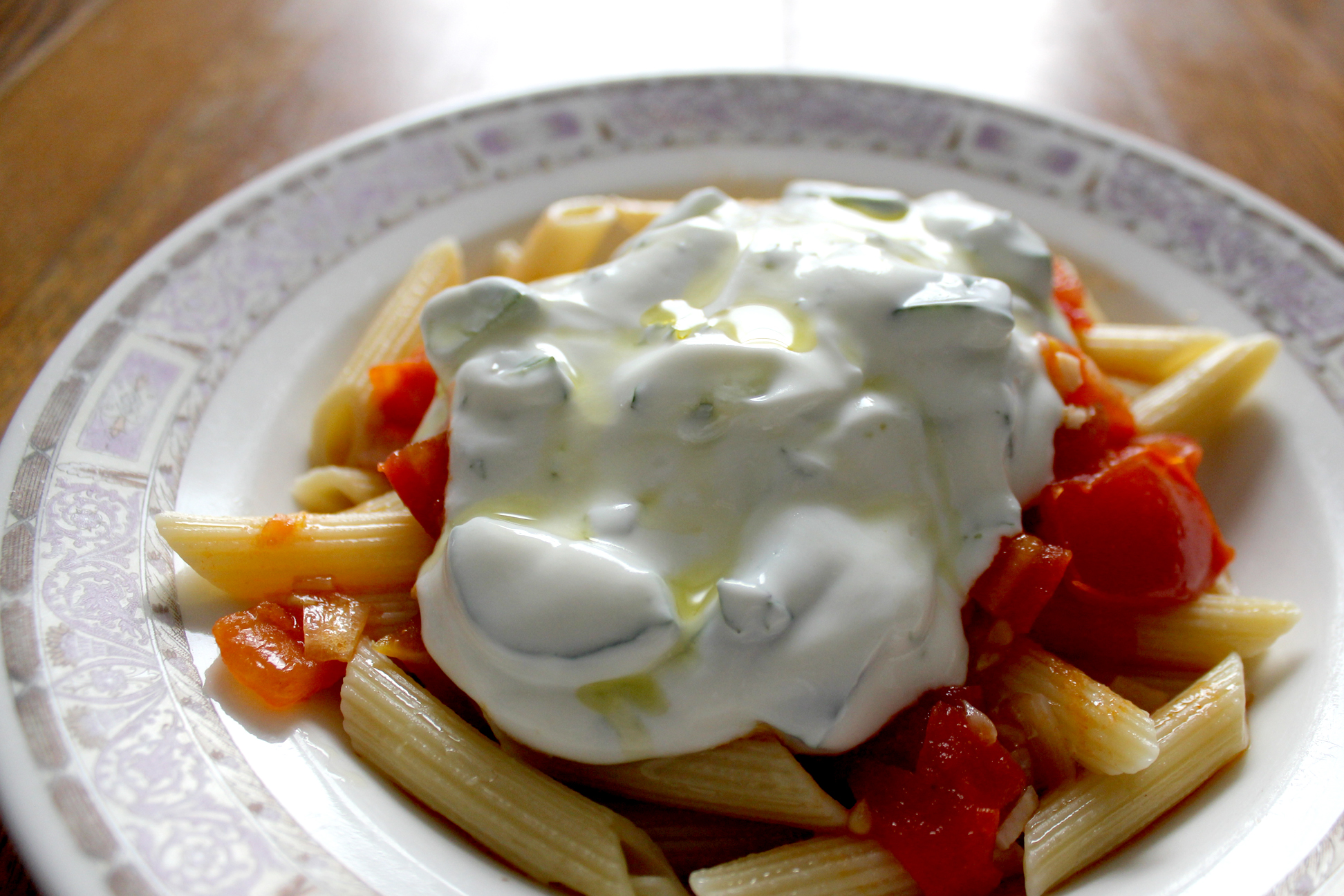 This morning, I called my mom to ask how to make pasta with fresh tomato sauce and tzatziki. She said "Hah! I just made that last night, I'm making it again tonight." It's an unexpectedly refreshing dish, and perfect for  a swampy-hot evening.
The recipe originally came to our family when, years ago, someone named Gooshloo (I'm sure that's not how you spell it), visited the Cape for a weekend. I don't remember much about him, I'm not sure where he came from, or to whom he belonged, but the recipe he brought with him had staying power. We've been making it for at least 15 years.
• Pasta with Fresh Tomato Sauce and Tzatziki •
For the Tzatziki
2 cups plain greek yogurt
2 cloves garlic minced or halved*
1 english cucumber, seeded, quartered lengthwise and chopped into 1/4 to 1/2 inch pieces
2 tablespoons olive oil
1 teaspoon Kosher salt
1 tablespoon lemon juice
a handful of fresh mint leaves, chopped
For the Tomato Sauce
3 tablespoons olive oil
1 small to medium yellow onion, chopped
1 clove garlic, minced
5 ripe tomatoes, the kind that come on the vine work well, and are the right size
1/2 teaspoon Kosher salt
a pinch of red pepper flakes
For Finishing
1 lb pasta
olive oil
To make the tzatziki, combine all ingredients and set aside for at least an hour. The tzatziki will be salty. When mixed with the pasta and sauce, I think it's just perfect, but if you prefer less, reduce the amount of salt to 1/2 teaspoon.
Put a pot of water on to boil for the pasta, salt the water generously. Sautee the onions in olive oil until soft and translucent (about 5 min), then add the garlic and cook for another minute. Add the tomatoes and cook over medium-high heat until they are soft (about 10 min). Season with the salt and red pepper flakes and turn off heat.
While the tomato sauce is cooking, put the pasta on to cook. When the pasta is almost done, scoop out an approximate 1/3 cup of the cooking water and add it to the tomato sauce. Stir the water into the sauce, and bring to a lively simmer for a minute or two. The starch from the pasta water will thicken the tomato sauce slightly.
Drain the pasta and toss with olive oil. To serve, either put pasta in a large shallow bowl, or plate individually. Top the pasta with the tomato sauce and then the tzatziki, drizzle with more olive oil and serve.
*If you are sensitive to raw garlic, just halve the cloves and mix them in to the tzatziki to add  flavor while it marinatess. Remove the garlic halves before serving.