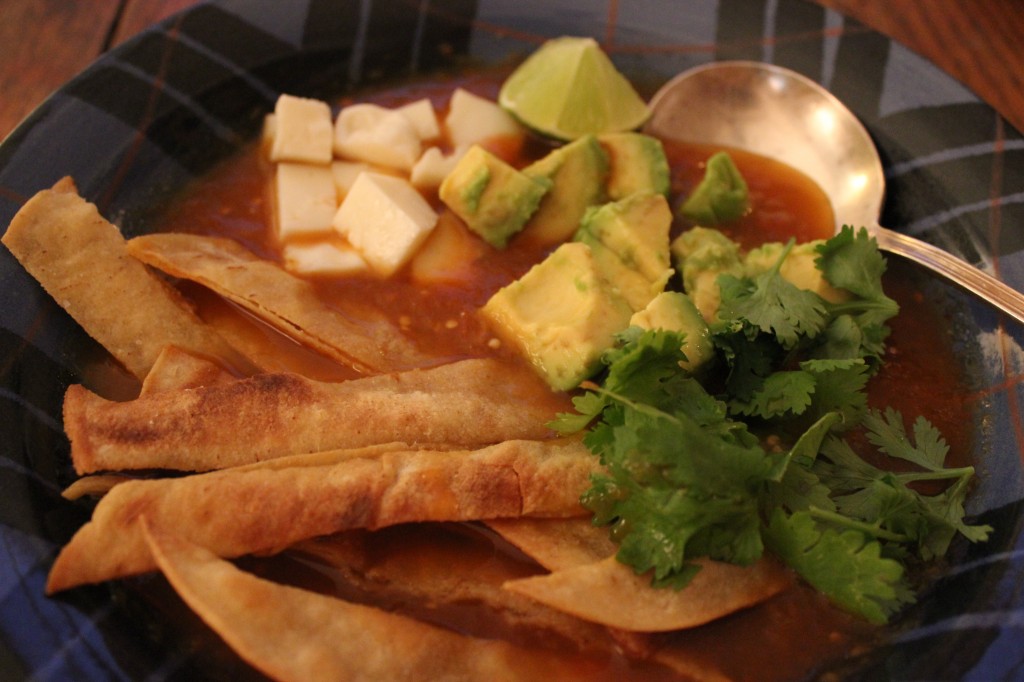 We've been waiting for something really exciting to happen today, and it's taking longer than we thought. I'm excited and anxious and tense. Tortilla soup came to mind as the perfect comfort food. Plus, it's something I love and haven't had for a really long time. I had a recipe once, I couldn't find it today but my memory served me well.
• Tortilla Soup •
1 medium yellow onion
2 medium-large tomatoes
2 tomatillos
1 poblano pepper
olive oil
2 1/2 cups chicken or vegetable broth
salt and pepper
1 cup cubed, salty, cheese (I used Halloumi cheese, cut into 1/2″ cubes)
1 avocado, cut into 1/2″ cubes
1 cup cilantro leaves
6 corn tortillas (old or stale is fine)
vegetable oil
lime slices for garnish
Preheat oven to 375 degrees. Wash tomatoes, tomatillos and poblano pepper. Cut an "x" into the top of each tomato and tomatillo. Peel the dry outer layer of skin off the onion, trim ends and cut in half. Put tomatoes, tomatillos, pepper and onion in a glass baking dish, drizzle with a little olive oil and salt and roast until very soft, about 1 hour. Remove from oven and set aside until cool to the touch.
Peel and seed the poblano pepper. Place the pepper, tomatoes, tomatillos, onion and any juices from the baking dish to a medium sized heavy-bottomed soup pot. Add the broth to the soup pot, and puree using a hand blender until smooth, removing any big pieces of skin or onion that come to the top or get tangled in your blender. Simmer for 10 minutes. Season with salt and pepper to taste.
Meanwhile, cube the avocado (toss with some lime juice so it does't brown), cube the cheese and wash the cilantro leaves and set aside. Turn your oven on to 400 degrees, place the 6 corn tortillas on a large baking sheet in the oven and cook until they are slightly dry and crisp, flipping so both sides get dry (if you're using stale tortillas you can skip this step). Cut tortillas into 3/4″ strips, toss in a bowl with vegetable (or other mild) oil to coat and a little salt. Turn the oven to broil, put the tortilla strips back on the baking tray in one layer (you don't have to be meticulous about laying them out) and broil, watching carefully and turning with tongs until browned and crisp.
Ladle soup into bowls and add a handful of avocado, a handful of cheese, a handful of cilantro and a pile of tortilla strips. Serve immediately with lime wedges to garnish. I think this soup qualifies as a meal, but add a salad and weekday chicken if you want to make it more substantial.