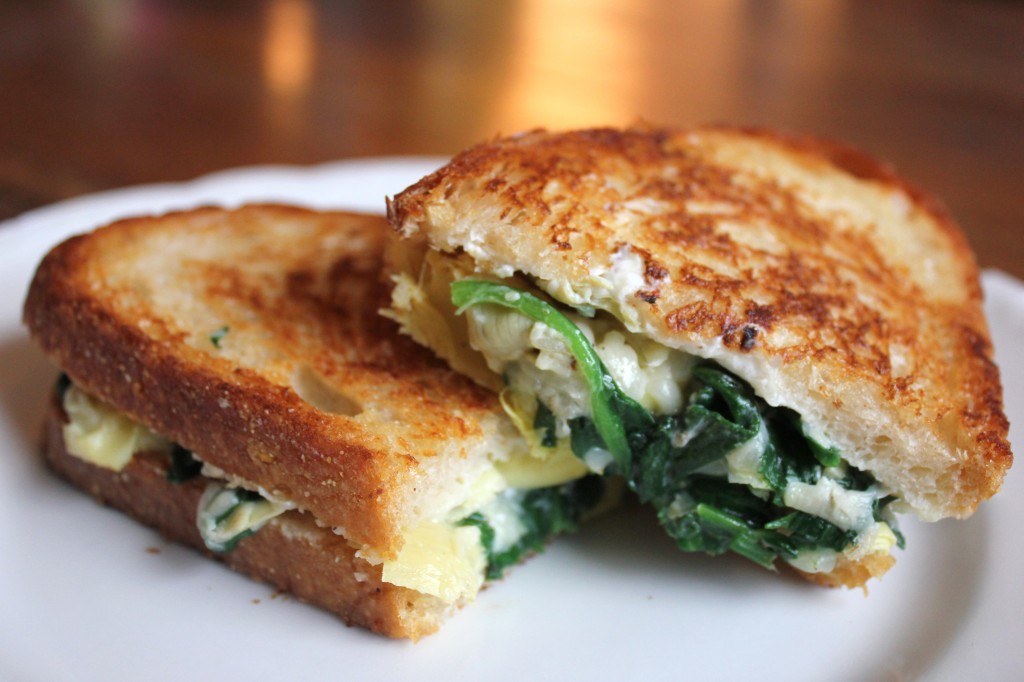 Our poor, sweet, kitty, Buttercup is very sick. We're not sure exactly what the problem is but we suspect it has to do with her eating a good portion of one of Rose's princess headdresses. The little lady had us running back and forth from the vet all afternoon and evening, leaving little time for planning dinner. (Not that dinner trumps our Buttercup's well-being, of course.)
I decided the best plan of action was grilled cheese, but I didn't want just grilled cheese tonight. I wanted some kind of jazzed-up, perfectly satisfying, titillating, variation. Naturally, I thought of Joy the Baker. She's always doing things like adding popcorn to cookies and peanut butter and bacon to pancakes, of course she was bound to have just the grilled cheese recipe I was looking for. And she did! Thanks Joy the Baker.
I used a combination of cheddar and mozzarella instead of jack cheese, and creme fraiche because I didn't have sour cream. Joy the Baker says "Sandwiches are very personal so the ingredients above are entirely flexible and up to you!"
• Spinach & Artichoke Grilled Cheese Sandwiches •
from Joy the Baker, original recipe here
splash of olive oil
1 small clove garlic
3 cups (or 3 big handfuls) baby spinach
4 slices bread (I used sourdough)
about 2 tablespoons cream cheese
1/3-1/2 cup grated or crumbled jack cheese
2 tablespoons grated Parmesan cheese
1/2 cup coarsely chopped canned artichoke hearts, drained
1 heaping tablespoon sour cream
1/2 to 1 teaspoon sriracha
large pinch of sea salt
1 tablespoon butter, for grilling the sandwiches
In a small skillet, heat olive oil over medium-low heat.  Add garlic and saute for 30 seconds.  Add spinach leaves and saute until wilted.  This should happen quickly.  Spinach just wilts in a hot pan.  Remove spinach from skillet, place in a medium bowl and set aside.
Spread each slice of bread with a bit of cream cheese.  You don't need much.  We're using it as edible sandwich glue.
Squeeze or press as much liquid as possible out of the canned artichoke hearts using a paper towel.
To the bowl of sautéed spinach add, jack cheese, Parmesan cheese, chopped artichoke hearts, sour cream, sriracha, and salt.  Stir until combined.
Top two slices of bread with spinach and artichoke filling.  Make sandwiches with the two remaining slices of bread.
Heat butter in a skillet over medium-low heat.  Add sandwiches and grill until each side is golden and the insides are melty warm.  Serve immediately.