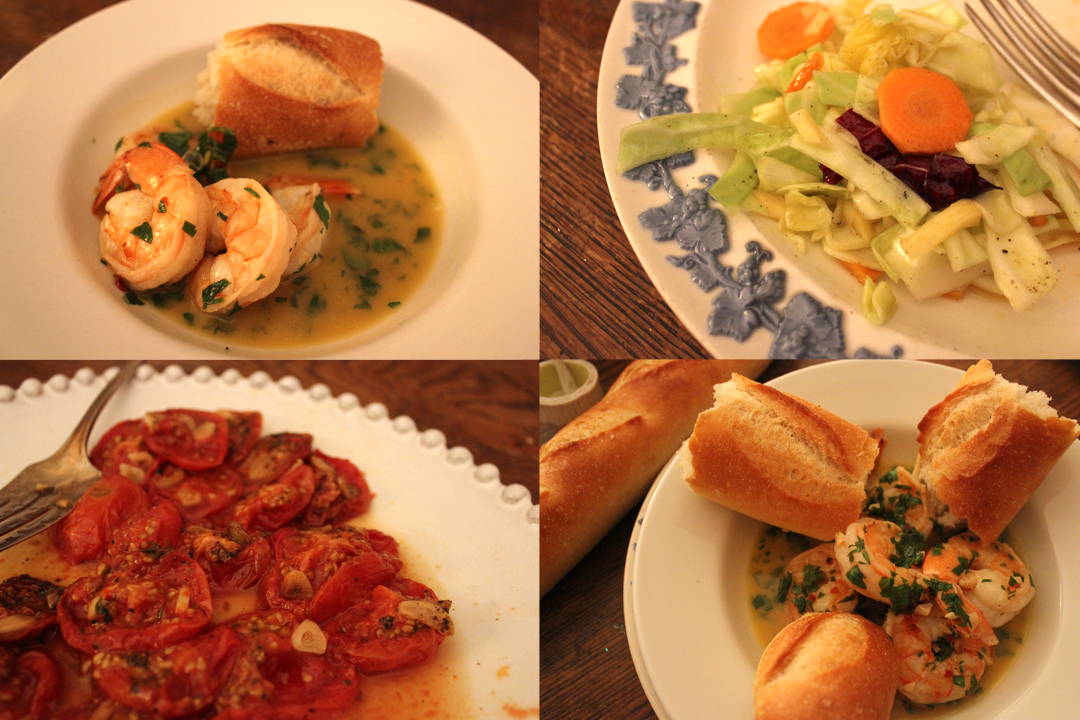 My parents came down yesterday to help me get ready for this baby. They also brought dinner!
My dad made Melissa Clark's Shrimp Scampi, which is utterly delicious over crusty bread (or over anything, really). I could probably eat it every day.
He also brought roasted tomatoes, which he'd made the day before. They're roasted at 300 degrees for 3 hours with some garlic, salt, olive oil and thyme, which makes them all soft, melty and really flavorful.
My mom made a salad from my CSA veggies, at my request. I really wanted raw vegetables but there wasn't much in the way of lettuce-like material in the box. She made a delicious salad of cabbage, carrots, radicchio and a lemony-rice vinegar dressing. Yum!
I had a long list of very small jobs for my folks to tackle, which they accomplished in no time. When I learned they were staying for a whole 24 hours, I decided it was time to make room for baby. This morning, I sent them off to IKEA with my aunt Gail, while I did some serious purging and organizing.
They returned and were a total power trio. My mom and aunt cleaned the kitchen and moved furniture to and from the basement, while my dad assembled a particularly challenging IKEA side table.
The room will now fit two children. I really wasn't sure how that was ever going to happen and am eternally grateful to my family for making it so. I guess I can have this baby now. Please.