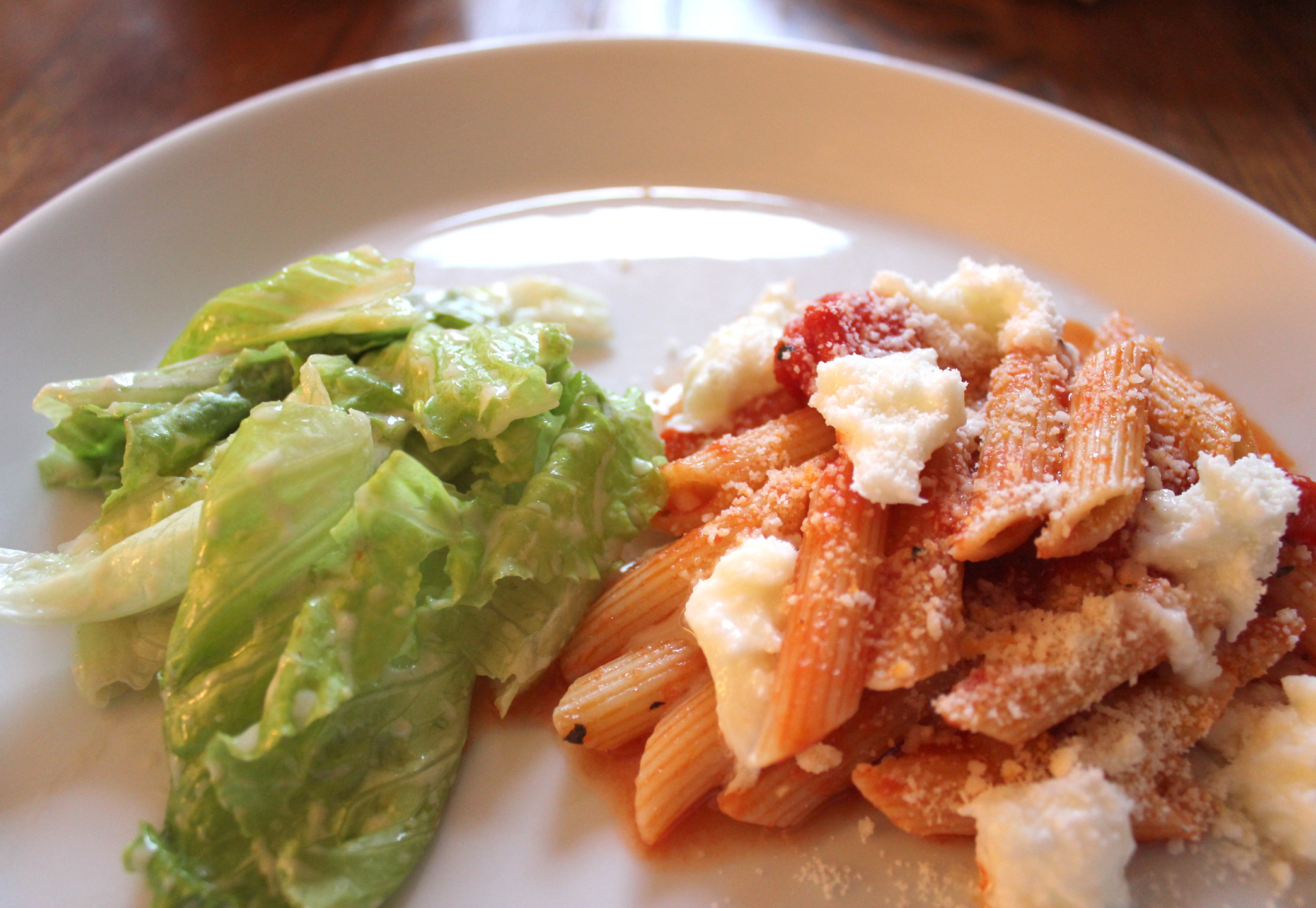 I was hoping to to go to the coffee shop for dinner, it being Wednesday and all. But Rose didn't want to go, because, you know, she didn't like her shoes.
The wonderful news is that I'm officially done with partial bed rest. I still have this discomfort that builds during the day, making it hard to be on my feet right when I  really need to be, around dinner time.
Fortunately, I had made Shane a 'proper' lunch of pasta with sweet Italian sausage and tomato sauce for lunch, and there was a lot of sauce left over. I made a fresh batch of pasta, warmed the sauce and threw together a simple salad.
For my version, I pulled the sausages out and replaced them with bufala mozzarella chunks. Rose and Shane devoured the sausage version.
Do you know that sausage-tomato sauce is the easiest thing in the world to make? It's also a great make-ahead or make while you're doing something else dish. Here's what I like to do:
• Easy Sweet Italian Sausage and Tomato Sauce •
olive oil
1 yellow onion
3-5 sweet Italian sausages
1 large can San Marzano tomatoes
Italian seasoning
1-2 tablespoons butter
salt and pepper to taste
pasta
cheese for sprinkling 
Pour a decent amount of olive oil (about 3 tablespoons) into a large skillet, add a thickly sliced yellow onion and sauté until soft and translucent. Add sausages, chopped into 1" chunks, and cook for another 5-10 minutes. Add some Italian seasoning, maybe a teaspoon or two, (I like Penzey's Pasta Sprinkle), a pinch of red pepper flakes (optional) and a can of whole, peeled San Marzano tomatoes. Mush the tomatoes a bit to break them up.
Add a tablespoon or two of butter while the sauce is cooking. When the sausages are cooked through, about 20-30 minutes, season with salt and pepper. Serve over penne or rigatoni with parmesan or pecorino for sprinkling. Pluck out sausages and give to someone else, if you're a flexible vegetarian. Have a simple green salad on the side.