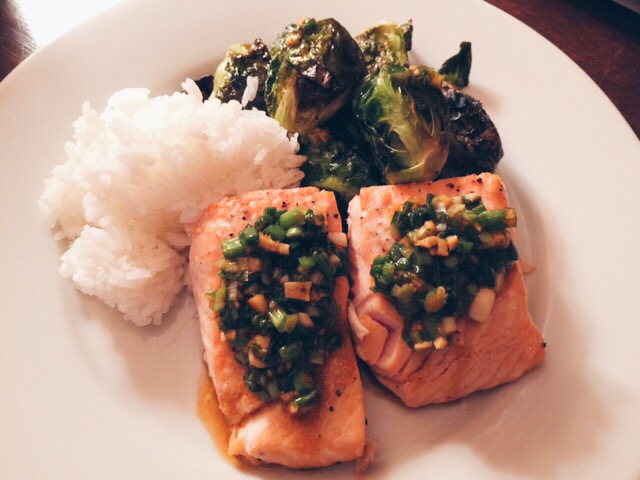 I picked Salmon & Brussels Sprouts with Ginger-Scallion Sauce for tonight because I knew Shane would be preparing dinner on his own with both kids in tow, which can be a challenge at best.
The recipe looked easy and quick, and needed only a side of rice to round it out. I handed a printout to Shane and hoped for the best.
When I got home from work, dinner was almost ready, the table was set, and most importantly, Shane didn't seem stressed out or frazzled at all. That would have sufficed, but this dish took it up a notch by being remarkably delicious.
Multiple comments were made about how great, really really great, it was. How this one should go in the archives. How the sauce should be bookmarked for future fish dishes. How we should use it this summer, on grilled bluefish, for example.
So there you go, a keeper.
• Salmon & Brussels Sprouts with Ginger-Scallion Sauce •
from Dinner A Love Story
Serves 4-ish
Preheat oven to 375°F. Slice a 1 1/4 pound salmon fillet into 4-ounce pieces as shown above. Trim and halve 4 cups of brussels sprouts and in a bowl, toss them with 2 tablespoons of oil (olive or vegetable), salt and pepper. (Do your best to keep all the brussels leaves on the sprout, because those individual leaves burn fast when roasted.) Place sprouts on a foil-lined cookie sheet and roast for 15 minutes, tossing half way through. (And don't worry, they should look a little charred.) Turn heat to 450°F. Nestle salmon filets among the sprouts and roast another 10 minutes. Serve with ginger-scallion sauce.
Ginger-scallion sauce (adapted from Momofuku cookbook)
Combine the following in a small bowl: 1 large bunch scallions (green and white parts), chopped; 1 tablespoon finely minced peeled fresh ginger; 2 tablespoons neutral oil, such as canola or grapeseed; 1 tablespoon soy sauce; a drop or two of fish sauce (optional) 2 tablespoons sherry or rice wine vinegar; a little chopped mint, a squeeze of Sriracha, salt and pepper to taste.