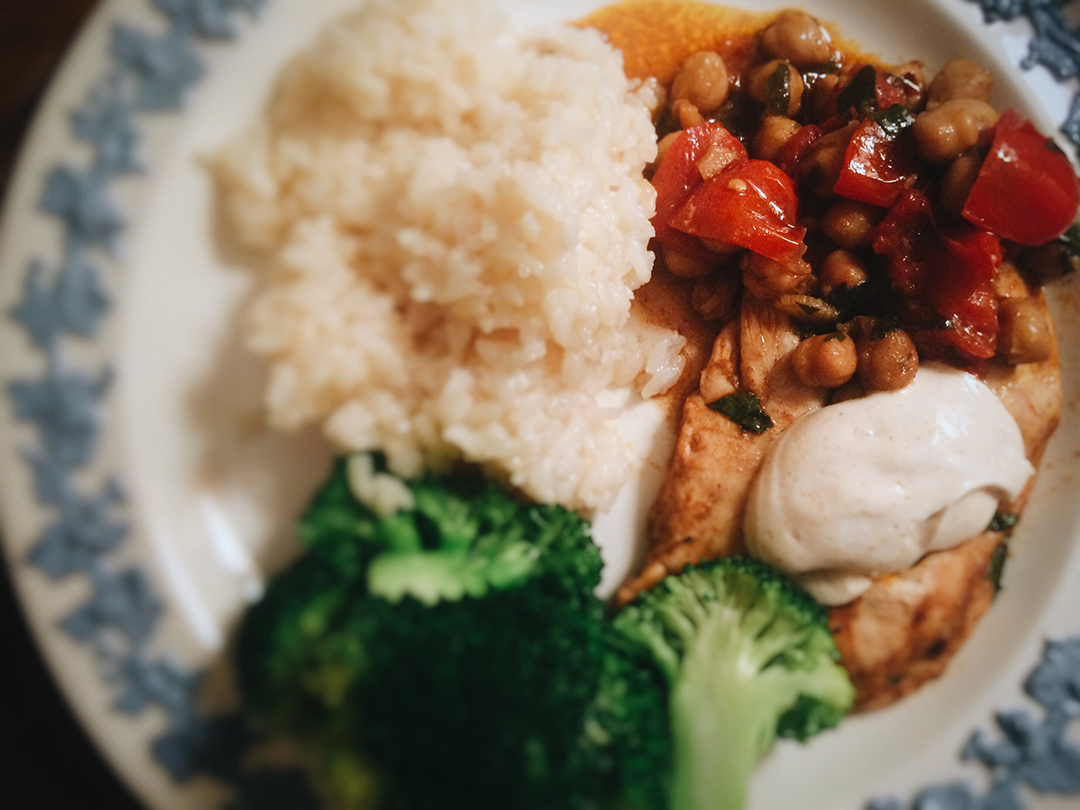 This week's dinner-winner was Roast Chicken Breast with Garbanzo Beans, Tomatoes & Paprika. This is one of those bung-it-all-in-one-pan dishes. While it bakes you throw together some sides (broccoli & rice are quick and work well).
Here's why we loved it:
1. It's a new (to us) recipe.
2. It works four ways.
3. It takes only 30-ish minutes start to finish.
4. Smoked paprika!
And here's how it works four ways:
1. If you're a not-too-picky vegetarian, ignore the chicken and eat the beans and tomatoes with the smoked paprika yogurt sauce over rice with a side of broccoli.
2. If you're Shane, eat everything.
3. If you're a not-too-picky 9 year old, opt for chicken with just a hint of tomatoes & beans, broccoli and rice.
4. If you're a picky vegetarian preschooler, please your parents by eating at least one bite each of broccoli & rice.
• Roast Chicken Breast with Garbanzo Beans, Tomatoes & Paprika •
from epicurious – serves 4
Ingredients
1/4 cup extra-virgin olive oil
4 garlic cloves, pressed
1 tablespoon smoked paprika
1 teaspoon ground cumin
1/2 teaspoon dried crushed red pepper
1/2 cup plain yogurt or Greek yogurt
4 chicken breast halves with bones
1 15-ounce can garbanzo beans (chickpeas), drained
1 12-ounce container cherry tomatoes
1 cup chopped fresh cilantro, divided
Preheat oven to 450°. Mix first 5 ingredients in medium bowl. Pour 1 teaspoon spiced oil mixture into small bowl; whisk in yogurt and set aside for sauce. Place chicken on large rimmed baking sheet. Rub 2 tablespoons spiced oil mixture over chicken. Add beans, tomatoes, and 1/2 cup cilantro to remaining spiced oil mixture; toss to coat. Pour bean mixture around chicken. Sprinkle everything generously with salt and pepper.
Place in oven and make your sides.
Roast until chicken is cooked through, about 20 minutes. Sprinkle with 1/2 cup cilantro. Transfer chicken to plates. Spoon bean mixture over. Serve with yogurt sauce.